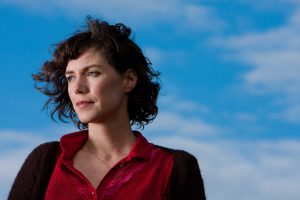 Catherine MacLellan talks about covering her Dad Gene's  iconic SnowBird.
Life in PEI and touring Alberta
Here are the tour dates..
| | | |
| --- | --- | --- |
| 1/17/2014 | Rose City Roots Society | Camrose, AB |
| 1/18/2014 | Festival Place | Sherwood Park, AB |
| 1/19/2014 | Ironwood Stage & Grill | Calgary, AB |
| 1/22/2014 | The Ridge Taphouse | Slave Lake, AB |
| 1/23/2014 | Grand Prairie House Concert | Grand Prairie, AB |
| 1/24/2014 | Jasper Legion | Jasper, BC |
| 1/25/2014 | Dunster School House | Dunster, BC |
| 1/26/2014 | PG Playhouse | Prince George, BC |

 
Biography
Silhouette is the highly anticipated new album from Catherine MacLellan. The record captures her best qualities effortlessly—stitching together elegantly woven songs with her memorable blend of heartfelt and powerfully introspective lyrics and catchy melodies.
Recorded largely at a secluded cabin in rural Prince Edward Island, MacLellan brought together a band of longtime friends and musical collaborators with producer David Baxter to craft the 14-track album that Canada's Exclaim! Magazine has touted as being "a near-hour-long album devoid of filler…a testimony to MacLellan's ascent to greatness." Indeed, the subtle yet steadfast strength of the album is undoubtedly the understated power of MacLellan's songwriting and performance on the largely acoustic-driven songs.
Her sweet tones weft gracefully throughout pensive and internalized lyrics that ponder, in the most elegant terms, the most relatable of internal dilemmas—balancing work and family, love blooming and fading away, and evaluating one's own personal strength. Throughout the 14 tracks on Silhouette, it's felt that you're listening to the voice of an every-woman with a gift for expressing with poise the most personal of internal conflicts.
A particularly sweet note on Silhoutette hits on the penultimate track "Snowbird", a stripped down cover version the most lauded song ever written by her father Gene MacLellan, featuring Canadian icon Jim Cuddy (of Blue Rodeo). It's a meaningful acoustic tribute to the elder MacLellan's songwriting legacy, and fan favourite re-imagined by Catherine in a whole new light.
MacLellan's star has long been rising in North America. Voted Critics Favourite New Discovery by Penguin EggsMagazine in 2008, her last record Water In The Groundreached out to expand her already loyal fan base as she toured in support of legendary artists including Bruce Cockburn in the United States and Steve Forbert in the UK, while also holding her own by showcasing in Boston, Berlin, Cannes, Memphis, New York, London, and Paris.
Her previous albums have collectively hit #1 on the iTunes Canada Roots charts, and been acclaimed by tastemakers atMaverick Magazine, fRoots, The Austin Chronicle, and Boston Globe.
Like the person in the room who demonstrates his or her commanding presence without announcing their arrival, Catherine MacLellan's fine songwriting talent and accomplished performance draws her listeners in with little effort, and without need of any persuasion. Silhouette is a reminder that Catherine's musicianship is unparalleled among performers of her generation.
Highlights
Winner at the 2010 East Coast Music Awards:
Female Solo Recording of the Year
Folk Recording of the Year
Four time winner at the Music PEI Awards!
Songwriter of the Year: Catherine MacLellan – "Take a Break"
Female Vocalist of the Year: Catherine MacLellan
Album of the Year: Catherine MacLellan – Water in the Ground
Folk Recording of the Year: Catherine MacLellan – Water in the Ground
Winner for Solo Artist of the Year at 2009 Canadian Folk Music Awards
#1 Roots Artist on iTunes Canada
PEI winner for CBC Radio 2 – Canadian Song Quest
Penguin Eggs – New Artist Discovery of the Year
 Playlist:
| | | |
| --- | --- | --- |
| Long Time Wrong Time | Sharon Jones & The Dap Kings | Give the people what they want |
| Crossroads | Ry Cooder | Crossroads Soundtrack |
| Respect Yourself | The Staple Singers | Top of the Stax |
| Rise Up | The Parachute Club | Rise Up |
| Axis: Bold as Love | John Mayer | Continuum |
| Brass in Pocket | The Pretenders | Live |
| Break | TDM | |
| Heaven's Wall | Bruce Springsteen | High Hopes |
| High Hopes | Bruce Springsteen | High Hopes |
| Dream in Blue | Los Lobos | Kiko |
| Hard Times | Barbados | Barbados |
| Love Hurts | Jann Arden | Uncover me 2 |
| Get Up and Get Out | Sharon Jones and The Dap Kings | Give the people what they want |
| Tornado | Joe Nolan | Tornado |
| Break | Mulligan Stew | www.mulliganstew.ca |
| Flesh and Blood | Living in the City | John Butler Trio |
| Instead | Madeleine Peyroux | Bare Bones |
| Good Intentions | Lyle Lovett and his large band | Lyle Lovett and his Large Band |
| If its all right with you | Catherine MacLennan | Snowbird: The songs of Gene MacLellan |
| Interview | with Catherine MacLennan | |
| Snowbird | Catherine MacLennan | Snowbird: The songs of Gene MacLellan |
| Interview | Catherine MacLennan | |
| Won't talk about Love | Catherine MacLennan | Snowbird: The songs of Gene MacLellan |
| Papa's got a brand new bag 1-2-3 | James Brown & the Famous Flames | Startime |
| Knock Yourself Out | Tower of Power | 40th Anniversary |
| Sam and Dave | Hold on I'm Coming | Top of the Stax |
| Come on in my kitchen | The Allman Brothers | Shades of Two Worlds |
| Dream a little Dream | Michael Buble | Special Delivery EP |