It's part three of our 2014 Tour of New Zealand.

Podcast: Play in new window | Download
[divider]
THE SHOW
in March of 2014 Tasting Room Radio was invited to tour New Zealand and closely examine the sustainability programs in effect.

Part One – we started in Auckland and then moved off shore to
Weiheke Island\
Then off to Napier and Hawkes Bay.
Part Two – because there are so many stories in and around
Hawkes Bay
we started there and then found our way to Nelson on the South Island and a chance to exchange stories and history with the local Maori.
Part Three (this show) starts in
Marlborough
..World Famous for its Sauvignon Blanc and now Pinot Noir.
SPY VALLEY
– so named because There's a large satellite monitoring centre sharing land with the wineries.
Spy Valley are described as the epitome of
New Zealand sustainable wines.
YEALANDS
– You want Character, you want baby goats? How about a visit to one. Of NZ most successful organic wineries Yealands.
Named after the character owner Pete Yealands.
SERESIN
–
Michael Seresin
is one of those rare people who has managed to make a name for himself in two quite distinct fields: filmmaking and wine.
His first career was as a cinematographer: born in Wellington, at the foot of New Zealand's north Island, he left New Zealand in 1966 to forge a successful career in the movies, which he continues to this day.
He's famous for the nine films he's made with British director
Allan Parker
, as well as working with
Alfonso Cuaron
on the third
Harry Potter film, The Prisoner of Azkabhan.
Seresin began his
Marlborough
winery in 1992, and this estate is far from being a vanity project, or a plaything for a wealthy retiree. Seresin is a serious player in Marlborough, and quite early on he decided he wanted to go against the grain and farm organically. He's now working with
biodynamics,
too, for part of his vineyard management.
BRANCOTT and STONELEIGH. 

Two of the biggest wineries in all of NZ and totally committed to sustainability.

Sauv Blancs, Chardonneys, Pinot Noir Rose and Pinot Noir..all between $16/$20.

Brancott is releasing a flight of Sauvignon Blanc and Pinot Gris at 9% alcohol.

Jamie Marfell is Winemaker and Patrick Materman is Chief Winemker.


STAETELANDT –  Dorien Vermaas  Co-Founder
While Ruud is hands on in the winery, Dorien has had her finger on the pulse of the marketing / sales of Staete Landt Wines since the beginning. Her background as a marketing manager in larger companies and her love for wine has certainly given her the edge when it comes to understanding this intricate side of the business.

Her bright and bubbly personality are a true asset to the company.  Along with Ruud, her philosophy is to produce wines of character and integrity – words that sum up her attitude to all she has done for
Staete Landt Wines 
Charlie Halliday – Viticulturist
As a youngster, Marlborough born Charlie earned pocket money working in the very first vineyards to appear on the landscape of the region. Little did he know back then, that the wine industry would become his passion and viticulture would be his career. Initially he was helping out Ruud in the development of the vineyard – as a contract worker. But it didn't take him long to realise that Staete Landt was on to something special. When offered the chance to take on the viticultural responsibilities he jumped at it.
MISHA'S Vineyard.  Central Otago.
Andy and Misha Wilkinson own one of the most beautiful pieces of land in Central Otago. So it come as no surprise that  the fruit from that land would turn out to be exceptional.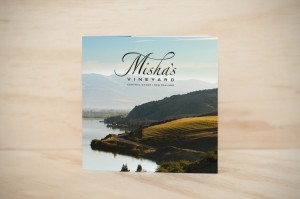 Neither make the wines..but they do find the best team and give them solid support.
High heat in the day and much cooler nights. That's what Pinot Noir really likes.
They're sold in 23 markets Round the World. High end restaurants and hotels.
Their Pinots are Verisimo
The Sauv Blanc is The Starlet
Limelight Riesling is spectaculAr.
Dressing Circle  Pinot Gris
The Gallery Gwertztrameener
It's all pulled together by stylist Ollie Masters 
And finally we finish fishing for big browns on south Island at Maraqeta Lodge (marakeeta) with Roger Brott.
Great fun. Wonderful adventure
Podcast: Play in new window | Download
[divider]
STORIES WE'RE WORKING ON:
Jason Priestley
Adam Cohen
Cowichan Valley