Vikram Vij takes to the streets.   The Wine Diva brings a serious year end wine list,  her Top 50 wines over $20 and 90 points or better.
How does a family from New Jersey move to California  and become one of the best wine making families in Sonoma?   Chris Benziger guests.
Wine Expert Mireille Sauve from The Wine Umbrella brings great background on Languedoc wines!

Podcast: Play in new window | Download
[divider]
 THE SHOW
 Vikram Vij – 
Born in India, Vikram left home at the age of 20 to begin his culinary journey abroad. Vikram immigrated to Alberta in 1989 and started work at the Banff Springs Hotel.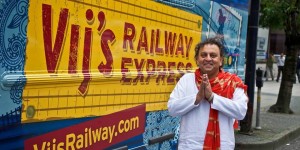 A certified sommelier, Vikram opened his first restaurant, Vij's, in Vancouver in 1994 to great success. A strict no-reservations policy has led to a nightly line-up outside the restaurant doors. New York  Times food writer Mark Bittman said Vij's was "easily among the finest Indian restaurants in the world."  He now operates three restaurants with more in the works  and a gourmet food truck in the Greater Vancouver area, and his line of packaged curries is available at grocery stores across the country. The author of two best-selling cookbooks, he won the Ernst & Young Entrepreneur of the Year award in 2001 and is a judge on Food Network's Top Chef Canada and Chopped Canada as well as CBC's Recipe to Riches.  He's one of the Dragon's Den hosts.  Thing is we don't have enough space for his awards..books, deals and press articles but we will say he was just awarded  Surrey's Businessperson  of the Year.
It's the Vij's Railway Express food truck we're interested in this week.. we find this culinary celebrity working Georgia street in front of his truck..not just shaking hands but WORKING THE STREETS..Hard core Vikram!
http://www.vijs.ca/
[divider]
 The Wine Diva  

Deanna van Mulligen loves her wines
..She is after all The Wine Diva, with an incredibly popular website
www.WineDiva.ca
She loves her wines and wine lists.
This week's list is a beauty.  It's the
Wine Diva Best of 2014 Over $20.00 and 90 points or better.
She's tasted well over a 1000 wines this year..these are the best of the bunch!!
WineDiva, Wine List – TOP 50 $20+ 2014
Catena 'High Mountain Vines' Malbec, Mendoza Argentina $22.99
Frontaura 'Nexus One', Ribera Del Duero Spain $24.95
Plume Chardonnay, Napa Valley California $30.00
Vignetti Zabu 'Il Passo' Nerello Mascalese~Nero d'Avola, Sicily Italy $22.99
Tommasi Amarone Della Valpolicella Classico DOC, Veneto Italy $59.99
Black Sage Vineyard Zinfandel, Okanagan Valley BC $23.99
Poplar Grove Cabernet Franc, Okanagan Valley BC $35.00
Ferrari~Carano Fume Blanc, Sonoma County California $25.99
Cantina di Negrar Amarone della Valpolicella Classico, Veneto Italy $39.99
Tenuta Dell' Ornellaia LeVolte, Tuscany Italy $34.99
Laughing Stock 'Portfolio' Okanagan Valley BC $45.00
Painted Rock Syrah, Okanagan Valley BC $40.00
Caymus Vineyards '40th Anniversary' Cabernet Sauvignon, Napa Valley California $72.00
Bodega Beronia Reserva, Rioja Spain $24.99
Moon Curser 'Afraid of the Dark', Okanagan Valley BC $22.00
Cassini Cellars 'The Godfather', Okanagan Valley BC N/A
Gonzalez Byass 'Noe' VORS Aged 30 Years Pedro Ximenez, Jerez Spain $39.99
Negretti DOC Nebbiolo d'Alba, La Morra Piedmont Italy $39.99
Benjamin Bridge Method Classique Brut Reserve, Gaspereau Valley, Nova Scotia $49.99
Wolf Blass 'Gold Label' Cabernet Sauvignon, Barossa Valley Australia $27.00
Marchesi de Frescobaldi 'Tenuta di Castiglioni' Toscana Italy $26.99
Black Cloud 'Altostratus' Pinot Noir, Okanagan Falls BC $35.00
Meyer Family Vineyards 'Micro Cuvee' Chardonnay, Naramata Bench, BC $65.00
Road 13 'Jackpot' Viognier~Roussanne~Marsanne, Okanagan Valley BC $30.00
Belle Glos Pinot Noir 'Las Alturas Vineyard', Santa Lucia Highlands, Monterey County, Calif. $43.95
Haywire 'Canyonview Vineyard' Pinot Noir, Okangan Valley $35.00
Sandhill 'Small Lots Program' Syrah, Phantom Creek Vineyard, Okanagan Valley BC $40.00
 www.winediva.ca
[divider]
Chris Benziger – Sonoma

Still in high school when the Benziger family moved from White Plains, Chris finished his senior year in wine country. He went on to earn a degree in marketing from the University of San Francisco while spending summers, weekends and every spare moment working at the winery. He officially joined the
Benziger Family Winery
in 1993 as a Brand Manager.
In addition to sales responsibilities, Chris also oversees the home ranch and its many farm related duties, i.e. shepherding the Benziger flock of sheep and cows, tending to the estate vegetable and fruit trees, and producing the Biodynamic preparations for all our vineyards. Chris feels that the only way to communicate the quality of the wines he promotes is by having the soil from the vineyard in which he's endorsing under his nails. The best impression a winemaker can leave on his wines are his footprints in the vineyards.
Representing the other Benzigers..Mike, Joe, Kathy and  Bob ..
we welcome back
Chris Benziger
..Shepherd and stand up guy!
http://www.benziger.com/
[divider]
Mirelle Sauve – Sommelier and co-founder of The Wine Umbrella
Perhaps one of the most overlooked wine regions in France is Languedoc.
Surprising considering it is the single biggest wine producing region in the world, being responsible for more than a third of France's total wine production. As recently as 2001, the region produced more wine than the entire United States.
It hasn't always been good times in Southern France..there was a enough wine surplus to create "Lakes of wine"
New producers and new wineries are changing the region..all for the better.
One of the best Langedoc experts is Mirelle Sauve from Vancouver's Wine Umbrella.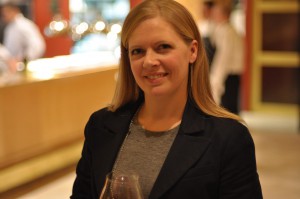 Mireille Sauve
The Wine Umbrella is a collection of professionals who leverage each other's strengths to promote the enjoyment of great wines in Western Canada.
Mireille Sauvé leads the pack of pedigreed wine pros, her background being that of a Sommelier, wine writer and educator with an unstoppable thirst to bring delicious wines to the masses.
www.thewineumbrella.com
Podcast: Play in new window | Download
[divider]
 STORIES WE'RE WORKING ON
Ned Bell wins Chef of the year in Toronto
KRISTIAN ELIGH..Gold Medal Chef wins in BC.
The Wine Diva with last minute Wine Gifts