James Nevison returns with the 10th edition of Had A Glass/Top 100 wines Under $20
Daenna van Mulligen/The Wine Diva has last minute Wine Gifts..
Yew Chef Ned Bell wins Chef of the Year from his peers.
Hawksworth chef du cuisine Kristian Eligh takes the Golden Medal Plates Competition  in Victoria .

Podcast: Play in new window | Download
[divider]
THE SHOW
 James Nevison/Had a Glass 2015  Top 100 wines under $20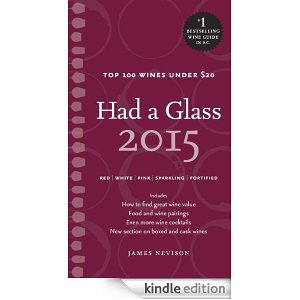 James Nevison's annual,  easy to read  guide for everyday wine is back for its 10th year, with the top 100 wallet-friendly wines for the year ahead.
James will find you the very best value for money across white, pink, red, sparkling and fortified wines.
$10 wines that taste like they're $30, and $20 bottles that will knock your socks off! Each wine has a full page review, and its label and barcode are included for easy reference at the liquor store. And, for the first time this year, the book contains delicious recipes for wine cocktails. Also included:
• How to taste wine (as opposed to simply drink wine!): James's patented Four Step Process
• How to buy wine: advice on how to seek out value in the liquor store.
• Food and Wine: pairings covering all the major food groups
 • The Splurge: for life's moments that trump the bottom line!
With Had a Glass 2015 in hand, you're guaranteed to find great tasting wines that are also great value.

www.hadaglass.com
[divider]
C
hef Ned Bell/  Executive Chef Yew Seafood and Bar Four Seasons Vancouver.
 Chef Ned Bell has been named Chef of the Year at the 27th Annual Pinnacle Awards.
The awards are presented by publications
Foodservice and Hospitality and Hotelier
magazines.
Ned earned the award for his "profound impact on how chefs and Canadian consumers perceive seafood." In a follow up feature in the December 2014 issue of Foodservice and Hospitality, Bell is described as a "connector." More specifically, he is a "curious, self-confident, sociable and energetic person with a special gift of bringing people together" all in the name of enjoying great food and good conversation in a way that looks after the environment.
Bell's advocacy against overfishing and tireless promotion of identifying and sourcing sustainable seafood is in play every day in his role as Executive Chef at YEW seafood + bar, one of the city's hottest tables, and Four Seasons Hotel Vancouver. Bell led the property to become Canada's first luxury hotel to be
100 percent Ocean Wise certified.
The athletic and outgoing chef took his commitment to the next level in 2014 when he founded
Chefs for Oceans,
a grassroots movement designed to raise awareness for the importance of sourcing, serving and eating sustainable seafood. From July through September, Bell hopped on his bike and rode more than 8,700 kilometres (5,400 miles) from St. John's, Newfoundland to Vancouver, British Columbia on a 72-day journey that included 24 special events with like-minded chefs and supporters across the country.
TRR welcomes back to the show – our pal Ned Bell.
http://www.fourseasons.com/vancouver/dining/lounges/yew_bar/
www.chefsforoceans.com
http://www.travelandtourworld.com/news/article/yew-seafood-bar-four-seasons-hotel-vancouver-executive-chef-ned-bell-wins-chef-year-foodservice-hospitality-magazines-annual-pinnacle-awards/
[divider]
Daenna Van Mulligen/The Wine Diva – Great Wine Gifts
As Daenna says at
www.winediva.ca
Who needs more stuff?
There are no concerns about getting the wrong size or if the recipient even has room for another chachka…
A great bottle of wine will always be appreciated. It's consumable and the rest recyclable.
Give the gift of wine!  
Painted Rock Cabernet Sauvignon, Okanagan Valley $40.00
Luis Segundo Correas 'Valle Las Acequias' Malbec Oak, Mendoza Argentina $22.99
Taylor Fladgate Fine White Port, Douro Portugal $21.99
Fonseca Porto Bin No. 27 Reserve, Douro Portugal $24.99
Serafino Shiraz, McLaren Vale Australia $28.00
Laurenz und Sophie 'Singing' Gruner Veltliner, Austria $21.99
Masi Campofiorin Rosso del Veronese IGT, Veneto Italy $19.99
Laughing Stock 'Portfolio' Okanagan Valley BC $45.00
Caymus Vineyards '40th Anniversary' Cabernet Sauvignon, Napa Valley California $72.00
Blue Mountain Vineyard and Cellars Reserve Brut Okanagan Valley BC $40.00
Tommasi Viticoltori 'Le Prunee' Merlot Della Venezie, Veneto Italy $19.99
Cave de Rasteau 'La Domeliere' Rasteau, Rhone Valley France $21.99
Jean-Claude Boisset Bourgogne Pinot Noir 'Les Ursulines', France $24.99
Maison des Bulliats Gamay Regnie Grand Cru, Beaujolais France $21.99
Quails' Gate Pinot Noir, Okanagan Valley $24.99
Bodega Beronia Reserva, Rioja Spain $24.99
Perrier~Jouet 'Belle Epoque' Brut Champagne, France $199.99
William Fevre 'Champs Royaux', Chablis France $31.99
Chateau de Sancerre 'Sancerre' Loire Valley, France $29.99
Barone di Valforte Montepulciano d'Abbruzzo, Italy $19.99
Gonzalez Byass 'Noe' VORS Aged 30 Years Pedro Ximenez, Jerez Spain $39.99
Antinori 'Peppoli', DOCG Chianti Classico, Tuscany Italy $24.99
Negretti DOC Nebbiolo d'Alba, La Morra Piedmont Italy $39.99
JoieFarm 'A Noble Blend', Okanagan Valley BC $24.00
Tormaresca 'Trentangeli' Castel del Monte, Puglia Italy $19.99
Yalumba 'Patchwork' Shiraz, Barossa Valley, South Australia $25.99
Philippe Cambie 'Les Halos de Jupiter' Cotes du Rhone, France $23.99
Stefano Farina 'La Ginestra' Chianti, Tuscany Italy $19.99
Jean-Marc Brocard Chablis 1er Cru Montmain, Burgundy France $39.99
Longview 'Yakka' Shiraz, Adelaide Hills Australia $30.00
Marchesi de Frescobaldi 'Tenuta di Castiglioni' Toscana Italy $26.99
Blue Mountain Vineyard and Cellars Reserve Pinot Noir, Okangan Valley BC $36.00
Clos du Soleil 'Signature', British Columbia $40.00
Rocland Estate 'Chocolate Box – Dark Chocolate' Shiraz, Barossa Valley Australia $24.99
www.winediva.ca
[divider]
Kristian Eligh.  Chef du Cuisine Hawksworth in Vancouver.  

Hawksworth Restaurant's Chef de Cuisine Kristian Eligh proved his culinary prowess , taking home the gold award at the
Victoria 2014 Gold Medal Plates competition
held at the Victoria Convention Centre. Chef Eligh went head to head with eight of the province's finest chefs at the prestigious culinary competition and will now go on to compete at the Canadian Culinary Championships, the Gold Medal Plates Finale,
in Kelowna on February 6 and 7, 2015.
Chef Eligh wowed the judges and a crowd of hundreds with his dish of
confit pork neck, granny smith apple, puffed avonlea cheddar, mâche paired with Meyer Family Vineyards 2012
Tribute Series Chardonnay 'Kelly Hrudey' Old Main Road Vineyard
.
Ultimately, Chef Kristian Eligh's dish was simple but vivid with a great wine match, which gave him an edge over his competitors.
Proceeds from Gold Medal Plates go to the Canadian Olympic Foundation
, supporting programs that further Canadian high-performance athletes' pursuit of excellence on the world stage – programs such as Own The Podium and COC's Athlete Excellence Fund.
Each dish was judged out of 100 points, based on visual presentation (20%), texture (20%), taste (30%), wine compatibility (10%), originality (10%) and wow factor (10%).
Website:
 www.hawksworthrestaurant.com
http://myvancity.ca/2014/10/31/hawksworth-restaurants-chef-de-cuisine-kristian-eligh-wins-b-c-s-2014-gold-medal/
Podcast: Play in new window | Download
[divider]
STORIES WE'RE WORKING ON
Argentina in an Hour
New Zealand in an Hour
The Wine Diva has Bubbles for New Years
Jim Cuddy
Tom Cochrane
Bruce McCulloch