An exclusive interview with Russell Crowe who stars in and  directs his first feature film  The Water Diviner, opening this weekend !
Mike Bernardo goes full Beastie Boy with his Mike B Reisling!
Okanagan Falls pours in Vancouver..looking for profile and making new friends! We talk to 6 wineries.
And the return of The Napa Wine making Gunslinger Cameron Hughes.
Podcast: Play in new window | Download
THE SHOW
Mike Bernardo – Sommelier of the Year
Somebody has to open for Russell Crowe and we think there's no one better than Mike Bernardo – Sommelier of the Year and maker of Mike b Riesling.
Mike Bernardo fell in love with wine in 1997, working at the five star hotel, the Balmoral, followed by The Atrium, in Edinburgh, Scotland. After returning to Canada he worked at Dock 503 on Vancouver Island as Manager / Sommelier. In January 2001 Mike joined Vikram Vij and Meeru Dhalwala at Vij's restaurant in Vancouver, where he worked with them to later open Rangoli, the Vij's production facility for their line of packaged curries (Vij's Inspired Indian Cuisine), as well as the Vij's food truck.
Mike's is currently Director of Operations and Wine Director for the Vij's Companies. He has lead the Vij's wine program to win several awards, including the Award of Excellence from Wine Spectator and Gold Prize for best wine list from Vancouver Magazine. Mike was responsible for all the wine pairings in "Vij's: Elegant and Inspired Indian Cuisine", which won the 2007 Cuisine Canada's Gold Award for Cookbook of the year. Mike also collaborated on the wine notes for "Vij's at Home-Relax, Honey", which won silver for best Indian Cookbook at the World Gourmand Cookbook Awards in Paris, France. In 2014, Mike won The Vancouver International Wine Festival and the Vancouver Magazine's Sommelier of the Year awards.
In 2014, Mike opened his own restaurant called Sutra, in conjunction with Vij's, in Victoria, BC. He now splits his time between Vij's restaurants in Vancouver and Sutra in Victoria.
The Winner of said award is given the very special opportunity to make his/her own wine in partnership with Okanagan Crush Pad.
Mike decided to make a BC Riesling that would not only handle Vij's half dozen spices in most dishes but would pair beautifully to make the meals even better.
He named the label Mike B in tribute to his favourite band – The Beastie Boys.
[divider style="solid" top="20″ bottom="20″] 
Russell Crowe – Actor. Director. Singer/Songwriter and Dad!
 When I read that Russell was directing his first ever film I just knew I had to see if I could find him. Find him I did.
Was I Pushy. You bet. But I knew a little something about the man. He has a very big heart and values friendships.
I had the pleasure of being a cast member of Mystery Alaska when it shot years ago in Canmore Alberta.
Russell took me for a beer and included me in the cast and crew gatherings.
I found him in Chicago surrounded by police sirens and morning coffees.
This film is very special to him. The Water Diviner is part of Australian history…all those soldiers who were sent to invade Turkey at Gallipoli exactly 100 years ago.
Many many men died on both sides..and that's the story that Russell tells in The Water Diviner. Lead by the tale of a Farmer  looking for his three sons who reportedly were all killed on the battlefield the same day. The film opens April 24th in Canada.
We also talk about his new music group in partnership with Allan Doyle and a couple of wine questions..like how come with acres and acres of farm land, he isn't making wines.
Please join us for this exclusive phone conversation with Russell Crowe.  Enjoy the film.
[divider style="solid" top="20″ bottom="20″] 
 Okanagan Falls Wineries pour in Vancouver.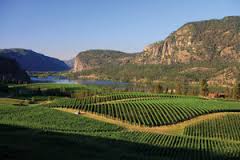 Every year BC's various wine regions come into Vancouver  and pour with pride their new releases.
For the food and wine industry it's a chance to stay in touch with the Okanagan and Vancouver Island, renewing friendships and checking out the wines.
For years, Okanagan Falls situated between Penticton and Oliver was the place you stopped for ice cream but not wine.
They're trying to change all that by making better and better wines.
Adding food and restaurants to their wineries.
We get caught up with the owners and winemakers from the following wineries:
Alan Dickinson – Synchromesh wine@synchromesh.ca 
Roland Kruger – Wild Goose  www.wildgoosewinery.com 
Elaine Vickers – Blasted Church www.blastedchurch.com
Lauren Skinner – Painted Rock  www.paintedrock.ca
Christy Mavety – Blue Mountain www.bluemountainwinery.com
Gerry Thygesen – Kraze Legz/Skaha and Acting president of OFWA.  www.krazelegz.com
[divider style="solid" top="20″ bottom="20″] 
Cameron Hughes Wines
Cameron Hughes is an American négociant that makes, imports, and distributes ultra-premium wine under five wine labels; The Lot Series, CAM Collection, Hughes Wellman, Greenlip, and Zin Your Face.  
The company was founded by Cameron Hughes and Jessica Kogan in 2001 for one simple reason – to bring truly exceptional wine to the market at real world prices. They  do this by partnering with the finest growers and wineries in the world and delivering consistently high quality wines and the highest degree of service to their  customers. The result is Cameron Hughes is one the most trusted wine brands in the industry, receiving high praise from wine experts and consumers.
Great reviews can be found at  Wine Enthusiast, Wine Spectator, Wine Advocate, Wine & Spirits, Wall Street Journal, Food & Wine, New York Times, Forbes Magazine, Cellar Tracker and more. In 2012, Cameron Hughes was nominated for "Innovator of the Year" by the Wine Enthusiast.
Safe to say he changed the game in California.
Podcast: Play in new window | Download
[divider style="solid" top="20″ bottom="20″] 
STORIES WERE WORKING ON
Rge Rd – Edmonton
Alberta chefs brings the goods to Vancouver
California wine tour
NZ on the coast