Podcast: Play in new window | Download
Quails Gate buys another California vineyard. We talk to founder Tony Stewart!
We travel  from Sonoma to Rutherford in Napa Valley ..and find Chuck Wagner and his daughter Jenny at Wagner Family Wines. Wagner makes Conundrum, Belle Gloss. Caymus etc
Harry Hertscheg and Christopher Gaze bring the stories on the 38th Vancouver International wine festival.
And Chef  Ian MacDougall  the 2015 winner of the Hawksworth Young Chefs Scholarship.
The SHOW
 Tony Stewart – Owner/Founder of Quails Gate
The Stewart Family  are a third-generation BC winemaking family with more than sixty years of outstanding wines under their belt. The family owns Quails' Gate winery in the  Okanagan Valley.
They have just announced the acquisition of California's prestigious Envolve Winery  from sibling proprietors Mike, Kate and Chris Benziger and Ben Flajnik.
The two veteran multi-generation wine growing families became acquainted when the Stewart family joined the Sonoma community in 2012 with the acquisition of Glen Ellen's Madrone Estate Winery, Valley of the Moon wines, and Lake Sonoma Winery.
Tony is Chief Executive Officer of the Stewart Family–owned winery business. His vision and guidance have been instrumental in the growth of Quails' Gate and Old Vines Restaurant to what it is today: internationally respected as one of the leading wine producers and culinary experiences in BC.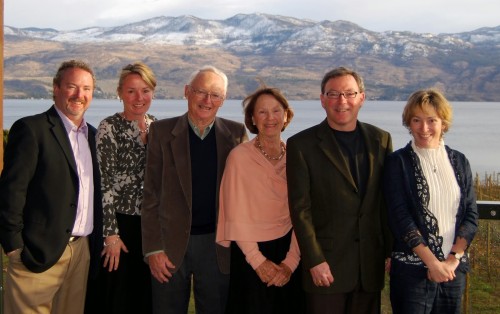 Stewart Family
I found and bothered  him in Hawaii.
Chuck and Jenny Wagner  – Wagner Family Wines. Rutherford
 The Wagner's  have been farming in the  Napa Valley since  1906 .    In 1972 Charlie , Sr   and Lorna Wagner  asked  their  son, Chuck, to  join them in starting   a winery  to be called Caymus Vineyards.   Today, Chuck oversees all vineyard and wine production focusing exclusively on Cabernet Sauvignon.  With pride, Chuck's  two sons have now joined  the family operations ; Charlie II making Mer Soleil Chardonnay  from the Santa Lucia Highlands in Monterey County,  and  Joseph   making Belle Glos Pinot  Noirs.   Conundrum is a team effort lead by Chuck.
Now comes Chuck's  daughter Jenny and she's starting to make her own wines.
Jenny is the newest member of the Wagners to join the family business as winemaker for Emmolo Sauvignon Blanc and Merlot. Emmolo is named after Jenny's maternal family, and was launched twenty years ago by her mother, Cheryl Emmolo
And so it grows!!
http://www.wagnerfamilyofwine.com/
Harry Hertscheg Executive Director –  Vancouver Wine festival

Christopher Gaze Founding Artistic Director  – Bard on the Beach
It's one quick month to the start of the 38th annual Vancouver International Wine festival.
If anyone knows about what's going on and how to get ticketed it's Harry Hertscheg.  He's been leading the team since 2001.  Harry has the numbers and suggestions for which events still have tickets.. pssst it's seling out FAST.
And that's a good thing because the festival raises funds for Christopher Gaze's Bard on the Beach.  Consistently one of the summers most popular events.
Chris fills us in on what plays are  under the tents this year.
They make a great one/two punch.  Enjoy!!
Ian MacDougall of Model Milk in Calgary won the Hawksworth Young Chefs Scholarship. He won an  award of $10,000 and a chance to cook in an international restaurant.
Ian  beat out  seven other finalists Saturday with his dish of roasted squab with lobster agnolotti, nasturtium braised endive and squab jus.
Surprisingly he won despite the fact he sliced his finger and was late with his dish. Must have been SOME dish.
Scholarship founder and chef David Hawksworth and his chef de cuisine Kristian Eligh, from Vancouver's Hawksworth Restaurant, held heats in Toronto, Calgary, Vancouver and Montreal.
The eight finalists were chosen from among 37 competitors.
The scholarship is intended to encourage Canadian chefs age 28 and under by giving them the opportunity to cook for acclaimed chefs and food critics.
Judging the finals were chefs Mark McEwan of the Toronto-based McEwan Group, Normand Laprise of Toque! and Brasserie T in Montreal, Scott Jaegar of the Pear Tree in Burnaby, B.C., and Anthony Walsh, executive chef of Oliver & Bonacini Restaurants in Toronto.
STORIES WE'RE WORKING ON
 The 38th Annual Vancouver International Wine festival
Featured region – Italy
Outstanding restaurants in the neighbourhood – East Vancouver.
Podcast: Play in new window | Download