Hello all..
Thanks for checking in.
Lots of music this week..
Chuck berry
Temptations
Impressions
Jungleland  Bruce Springsteen
Feist
New Elton John
The Beatles from Love
Grand Funk
The Arkells
Andy White
New ColdPlay
And a feature interview with Winnipeg's Roger Roger who are touring Alberta with a fine new album Fairweather.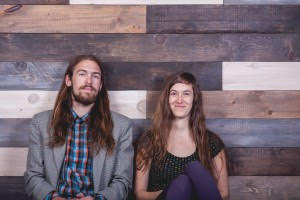 Roger Roger is a sibling folk/roots duo from Winnipeg, Canada. Twins Lucas and Madeleine Roger are both singer-songwriters who have joined forces, each playing guitar and shamelessly harmonizing all over each others' songs. They wholeheartedly embrace their differences, fusing her magnetic sweetness alongside his unruly charm.
The offspring of producer/engineer/musician Lloyd Peterson, the twins have a knack for songwriting that must have something to do with growing up in a recording studio. They are quickly becoming known for the blend of their vocals, compelling storytelling, and genuine vibe.

About the Album:
Roger Roger's debut album Fairweather was recorded and co-produced by their father Lloyd Peterson (The Wailin' Jennys, The Weakerthans) at Paintbox Recording in Winnipeg, and mixed by John Whynot (Kathleen Edwards, Blue Rodeo). The album artwork was drawn and designed by Madeleine Roger.
With their imaginative storytelling and honest lyricism at the core, Fairweather awesomely juxtaposes the songs and voices of the Roger twins. Together, they bring a balance of folk, roots, and rock inspired songs in a beautifully produced album that makes for a remarkable first recording
Praise:
"The beauty of their voices together and their unique and mature songwriting make them a true delight"  -Cara Luft (The Wailin' Jennys, Small Glories)
"Two superbly talented and highly original singer-songwriters" –Greg Leskiw (The Guess Who)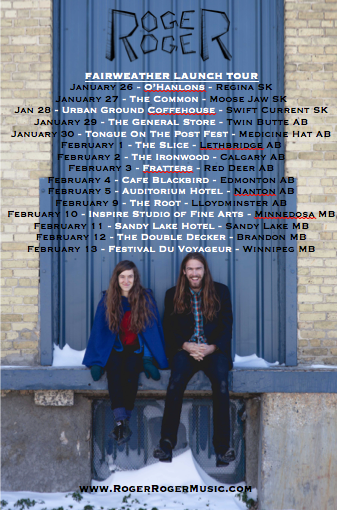 COMING SOON:
In studio chats and plays with
BTU  – Barney Bentall  Tom Taylor  Shari Ulrich
Corb Lund and the Hurtin Albertans
The Devin Cuddy Band

PLAYLIST:
| | | |
| --- | --- | --- |
| This is Mulligan Stew – Year Twenty | Playlist www.mulliganstew.ca | |
| no particular place to go | Chuck Berry | best of |
| Hercules | Aaron neville | On the good foot |
| aint too proud | The Temptations | Hitsville/Bill Chill /Soundtrack |
| Womans got Soul | The Impressions | Greatest hits |
| Mushaboom (mocky Mix) | Feist | Open Season |
| www.canadahouse.com | Mulligan Stew Year 20 | |
| MAD Trapper | Roger Roger | Fairweather |
| Blue Wonderful | Elton John | Wonderful crazy night |
| This is Mulligan Stew – Year Twenty | www.mulliganstew.ca | |
| Some kind of wonderful | Grand Funk | best of |
| Up and Up | Coldplay | Headful of Dreams |
| Get Back | The Beatles | Love |
| Glass Onion | The Beatles | Love |
| Eleanor Rigby | The Beatles | Love |
| This is Mulligan Stew – Year Twenty | Playlist www.mulliganstew.ca | |
| Buck and Stomp Dance | The Crusaders | best of |
| 6 days on the road | Taj Mahal | In progress and in Motion |
| This is Mulligan Stew – Year Twenty | Playlist www.mulliganstew.ca | up Next The Boss in Jungleland |
| Jungleland | Bruce Springsteen and the E street band | Born to Run |
| Into the great wide open | Tom Petty and the heartbreakers | Playback |
| Never thought that this would happen | The Arkells (Acoustic) | Acoustic EP |
| www.coyotesbanff.com | Coming UP Roger Roger | |
| Separation Street | Andy White | How things are |
| This is Mulligan Stew – Year Twenty | Coming up Winnipeg's Roger Roger | playlist mulliganstew.ca |
| Roger Roger interview | | |
| O Rainy Day | Roger Roger | Fairweather |
| Roger Roger interview | | |
| 13 crows | Roger Roger | Fairweather |
| Roger Roger interview | | Fairweather |
| Think of me | Roger Roger | Fairweather |
| Big Love | Linsday Buckingham | Solo |
| Brushy Mtn Conjugal Trailer | Old Crow | Remedy |
| this has been Mulligan Stew | see ya | |