Nathan Fong on the Best Patios in Vancouver and why..
Celebrating Pride month in Vancouver with Absolut Rainbow cocktails!!
It's 40 years since The Judgment of Paris. BC had its own "judgement" last year.
We remember with DK Kearney and surprise winners  Chris Jentsch and Amber Jones at CC Jentsch.  
Podcast: Play in new window | Download
THE SHOW
Nathan Fong – Fong on Food and the best patios in Vancouver
 My challenge to Nathan was simple..after it stops RAINING where are the best patios for dining, seeing and being seen?
Here's Nathan's response
"For me, most patios places are always packed and buzzing during the summer. It's the time to be seen and alfresco dining is in!
Food and service are always in my top tier…atmosphere, locations and views to me are secondary, nice but not as important as the food that comes out on the plate.
Sure, it's always great to see the athletic and buff passer-bys rollerblading or jogging on the seawall (such as Ancora, Beach Bay or Provence) or the glorious sunsets from the Coal Harbour Cactus Club or The Teahouse at Ferguson Point, but as you said before, there's so many places that take the location for granted and the food takes a step down. It's still important no matter where the location is."
 Nathan Fong is a Vancouver born chef who is an award-winning food stylist, an accomplished food & travel journalist and founder of Fong on Food. His love for food is a family trait that has been the drive behind his work, although he wouldn't call it a 'job' or 'work'.
In the business since 1989, Nathan is a pioneer in preparing food for photography and film. He developed many of the mouth watering techniques used by food stylists today. It is important to Nathan for the food to look as good in media as it does in person.
For Nathan, travel and food go hand in hand. His drive and passion for travel stems from his desire to expand his palate and share this with others. Explore the world of food through Nathan's eyes and share in his experiences.
Personally, I think the awards say it all 
Former Director, IACP (Int'l Ass'n of Culinary Professionals)
Founder and Chair, Passions for The Dr Peter AIDS Foundation
Honorary Director, The Dr Peter AIDS Foundation
Travel Media Assoc of Canada (BC Board)
IACP Award of Excellence (Foodstyling)
GlobalTV
ShawTV
The Vancouver Sun
Taste Magazine, contributing editor
International Taste and Travel Magazine, contributing editor
Boulevard Magazine, Food and Travel
Canadian Traveler
twitter: fongonfood
June is World Pride Month – To celebrate we mix Absolut Rainbow with  bartenders Kaitlyn Stewart (Royal Dinette) and Terence Lowe (Keefer Bar-Fountainhead Pub)
Just in time for World Pride Month in June, Absolut Vodka introduces its latest limited edition bottle: Absolut Mix.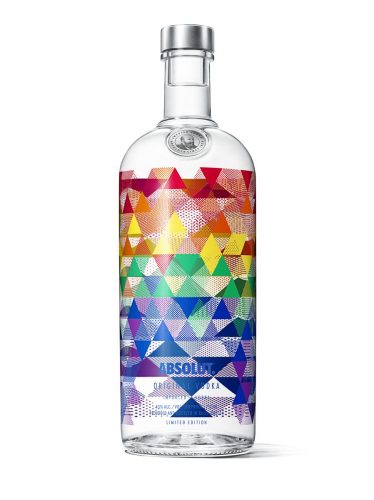 Continuing Absolut's long tradition of championing inclusion, Absolut Mix is a tribute to the rainbow flag – an icon of diversity.
Why Absolut Mix? Because the distinctive, signature Absolut bottle blends the six colours of pride in a way that brings them together, yet maintains their individuality, just like Absolut's vision to encourage people to connect without labels.
Absolut Mix contains the same premium, Swedish vodka as a bottle of Absolut Vodka.
Vancouver bartenders, Terence Lowe, The Keefer Bar + The Fountainhead Pub and Kaitlyn Stewart, Royal Dinette have both created original Absolut cocktails to mark the occasion. Whip one up at home, or order it straight from her bar during  Vancouver's Pride festival.  We talk mixes, Pride Month and what it means to each, why Absolut took this 30 year journey and Vancouver as a cocktail nation.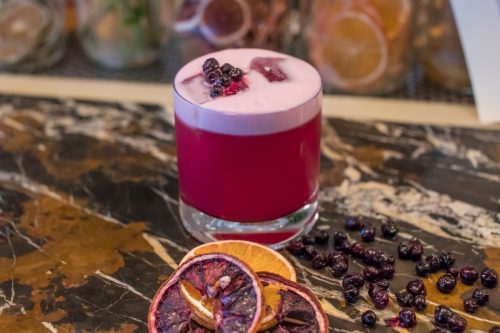 The Harvey Milk
Bartender: Kaitlyn Stewart // Bar Manager, Royal Dinette
Concept: "My cocktail concept is based around a homemade milk liqueur. I infused it with blueberries to get a really nice purple colour out of it (purple being a significant colour in the lgbtq community). I named the cocktail "Harvey Milk" to pay homage to the biggest and most significant gay advocate of the last 50 years.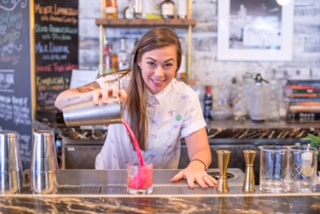 Harvey Milk 
1 oz. Blueberry milk liqueur
¾ oz. Absolut Mix
½ oz. Odd society Cassis
¾ oz. fresh pressed lemon juice
2 dashes orange bitters
1 oz. Whey
Combine all ingredients into shaker tin. Vigorously shake for 10-15 seconds. Fine strain over ice into rocks glass. Garnish with a lemon twist and a few blueberries.
Milk liqueur: equal parts vodka to white sugar to whole milk (preferably organic). 1/2 cup of frozen blueberries. 1 whole lemon chopped and 1 whole orange chopped. Combine all ingredients into a mason jar or jug. Let stand for 10 days at room temperature, mixing once a day. On the 10th day, using a fine mesh strainer lined with a coffee filter, carefully transfer contents into another jar. Repeat this step until milk liqueur is translucent. Finished product will be good for 6 months. 
 ABSOLUT TOMBOY
Bartender: Terence Lowe // The Keefer Bar + The Fountainhead Pub
Concept: This is a colour-changing variation of a Tom Collins and a French 75 using vodka.
Absolut Tomboy
 1 ½ oz. Absolut Mix
2 oz. Blueberry purée/muddled blueberries
1 oz. "Tomboy Syrup" (red cabbage water, sugar, baking soda)
1 oz. Lime juice
Crushed ice
Sparkling wine/champagne
Add blueberry puree, vodka and Tomboy Syrup into a Collins glass. Fill glass with crushed ice.
Add lime juice and observe colour change. Top with crushed ice and sparkling wine.
Garnish with a lime wheel & blueberries.
Tomboy syrup: To achieve the colour change, add red cabbage juice & sugar. To prepare the cabbage juice, cut a red cabbage into one-inch strips, and add to a microwavable safe bowl. Add water until the cabbage is submerged. Microwave on high until the water is boiling, which should take roughly two and a half to three minutes, depending on the size of the bowl. Add a pinch of baking soda, which will turn the syrup blue. Measure the water and add an equal amount of sugar. Allow the syrup to cool.
Cheers!!
The Judgment of BC –  DJ Kearney (Expert and Organizer) and Chris Jentsch/Amber Jones (CC Jentsch Winery)
 2016  marks 40 years since The Judgment of Paris  a blind tasting where a panel of esteemed French judges chose upstart California wines over France's best.  There were  tremendous aftershocks of this historic event that changed forever the world of wine.
The Paris Tasting of 1976 will forever be remembered as the landmark event that transformed the wine industry. At this legendary contest—a blind tasting—a panel of top French wine experts shocked the industry by choosing unknown California wines over France's best.
The Paris wine shop owner and expert Steven Spurrier who conceived and organized  the event in Paris  was invited by DJ Kearney to oversee The Judgment of BC last year in Vancouver.
(The film Bottleshock was loosely – very loosely  based on this Paris tasting)
DJ and Steven gathered 12 Chardonnays and 12 Syrah in a blind taste off.  6 BC Chards and 6 Syrahs were included to see just how we measured up to other World Wines.
Our Chards held their own but no upsets there. (Blue Mountain was the highest ranked from BC) The top five finishers came from Australia (Soumah 2103), New Zealand (Kumea River 2012), South Africa (Hamilton Russell) and two from France (Jean-Marc Brochard Chablis Premier Cru Montmains 2012 and Bouchard Pere & Fils Meursault Premier Cru Genevrieres 2011).
The surprise winner on the Syrah side was CC Jentsch, which won the whole Syrah event.
No. 2 was Langmeil Shiraz Orphan Bank 2012 from South Australia and third was 2013 Domaine Vincent Paris Cornas Granit from France. The No. 4 and 5 Syrahs were from the Okanagan – 2012 Nichol from Naramata and 2013 Le Vieux Pin Cuvee Classique from Oliver.
First we talk to DJ  Kearney about the Judgment and what it ultimately means to BC and Canadian Wines and why CC Jentsch won the Syrah tastings.
Director of Wine – New District
And then after a break we'll head to The Golden Mile,  South of Oliver and meet the charming Chris Jentsch the co-owner and grower of CC Jentsch  vineyards and the winemaker who created the Syrah and other wines waiting to be discovered. – Amber Jones.
Amber grew up on Vancouver Island and moved to the Okanagan in 2009 to pursue her passion for wine. She came to C.C. Jentsch Cellars with an elite background of experience at Nk'Mip Cellars, Road 13, and Black Hills Estate Winery before accepting Chris' offer to craft his mature Golden Mile Bench fruit into award winning wines.
http://www.ccjentschcellars.com/big-easy
Podcast: Play in new window | Download
STORIES WE'RE WORKING ON
 2016 Vancouver International Wine festival
Parts One and Two
2 hours of seasoned, reasoned tasting and comments from the best winemakers and principals in the world.
Feature group – The Italians. An all-star group of legendary Principals.
Wines of Spain – with Master of Wine Norrel Robertson pouring 5-7-10 year old Anciano Tempranillo