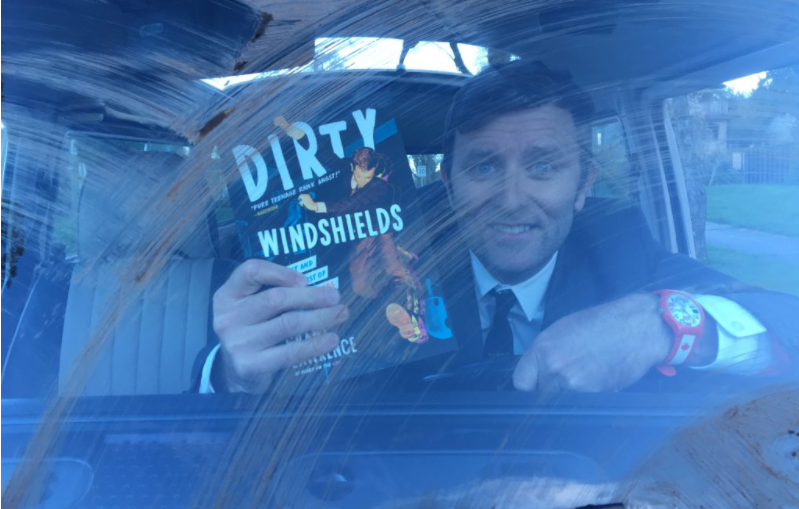 Grant Lawrence co-founded the band The Smugglers in his parents basement in West Vancouver.
They blazed through the 90's..starting with church gigs arranged by friend Nardwuar, the human serviette.
Grant went on to become a freaking BROADCASTER of all things – at CBC..still to this very day and a national figure.
Bangs out books plays goalie, has a wonderful family and has released the book Dirty Windshields.
It's about The Smugglers journey through the 90's and how they somehow not only survived but carved out a career around the World.
Grant brings stories of he and a Python meeting in at pay phone  while being live on air.
Stories of he and Nardwuar knocking on my door in West Van on Halloween night..not for treats but advice on the music and radio business.
And I didn't slam the door.
He reminds me that I'm in two Smugglers videos etc.
How does he remember all this?
Because he kept a diary.  Ingenious!
Corey Wood, webmaster, has placed  The RAW interview Here.  Enjoy!!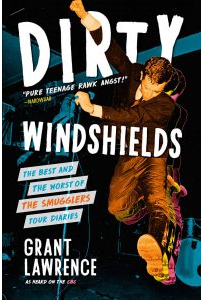 Dirty Windshields is the long-awaited memoir from CBC host and award-winning author Grant Lawrence, baring all the salacious and hilarious details from his touring days as the lead singer of Vancouver-based rock and roll band The Smugglers. Formed when most of the members were still in high school, The Smugglers came of age during the height of the grunge explosion in the early 1990s, when Grant, working as a concert promoter, put on shows for Nirvana, Green Day and Bad Religion, among many others.
In Dirty Windshields, Grant chronicles the band's booze-fueled, sweaty, broke and wayward attempts at rock and roll glory as they trekked across Canada, the United States, and eventually, Europe and the Pacific Rim. In their sixteen years of touring, the Smugglers experienced all the highs and lows the road can offer, from playing a gig at New York's legendary CBGB club to starting a riot in a Denver nightclub to having their performance tuxes stolen in Australia.


Through the fights, sexual misadventures, new friendships, dance contests and mayhem, the band grew up together on the road. Told with Grant's signature self-deprecating wit, the anecdotes develop into a compelling story of the growth of an independent, do-it-yourself touring band, a community, and a musical movement. So crack open a semi-cold can of Black Label beer, stick a Smugglers tape into the cassette deck and let the good times roll.
http://thesmugglers.com/
http://grantlawrence.ca/
PLAYLIST:
| | | |
| --- | --- | --- |
| The Great Highway | Ray Davies | Americana |
| you can leave your hat on (Live) | Joe Cocker | Cocker Live |
| Change it (live) | Stevie Ray Vaughn | Live Alive |
| www.canadahouse.com | Coming Up -Taj Mahal. Aretha. Chuck Berry & New Barney | www.mulliganstew.ca |
| Master Blaster | Stevie Wonder | Best of |
| Messing with the Kid (live) | Junior Wells | An introduction to Junior Wells |
| TD Mulligan | Mulligan Stew | NEXT – Hairy Manx..sorry..Harry Minx |
| Summertime | Harry manz and Sydney Lyric Quartet | Faith Lift |
| That's how strong my love is | Taj Mahal | The essential Taj |
| Dr Feelgood | Aretha Franklin | best of |
| Hot Cookin | G Love | Lemonade |
| Big Boys | Chuck Berry | Chuck |
| www.coyotes.banff | Mulligan Stew | TDMulligan |
| Can't you hear me knockin | The Rolling Stones | Sticky Fingers |
| www.mulliganstew.ca | TDM | Next – NEW Barney Bentall |
| The Miner | Barney Bentall with Dustin Bentall | The Drifter and the Preacher |
| This is Mulligan Stew | Tonights Guest Grant Lawrence & Dirty Windshields | www.mulliganstew.ca |
| Falling Slowly (live) | Glen Hansard & Eddie Vedder | Youtube |
| while my guitar gently weeps | The Beatles | White LP |
| Hang loose | Alabama Shakes | Boys and Girls |
| why why why | Jimmy Vaughn | Keep your soul. Tribute to Doug Sahm |
| Coming UP – Grant Lawrence Interview | Mulligan Stew | www.mulliganstew.ca |
| Out of the blue | Blue Rodeo | In our nature |
| Devils Load | Lee harvey Osmond | The Folk Sinner |
| NEXT – Grant Lawrence talks The Smugglers | and his book Dirty Windshields | mulligan stew |
| Grant Lawrence interview | Dirty Windshields | TDMulligan |
| It never changes | Jr Gone Wild | Less art More Pop |
| Grant Lawrence interview | Dirty Windshields | TDMulligan |
| especially for you | The Smugglers | Dirty Windshields Soundtrack |
| Grant Lawrence interview | Dirty Windshields | TDMulligan |
| Rosie | The Smugglers | Dirty Windshields Soundtrack |
| Grant Lawrence interview | Dirty Windshields | TDMulligan |
| Vancouver BC | The Smugglers | Dirty Windshields Soundtrack |
| TD Mulligan | Thanks for listening | See you at Blue Rodeo Sunday |
| I found a love (live) | Greg Allman | Greg Allam Live – Back to Macon |