Proudly wears the Order of Canada. Singer. Songwriter. Supreme Troublemaker. Poet. Author.  Jazz Festival Organizer and proud creator of a career-defining new album Meaning to Tell Ya!
So many stories, so little time.  The last 30 minutes of The Stew will feature four tracks from the new album and equally as many stories of moments in her life.
All one has to do is set her in motion and then  30 minutes later look frantically for the handbrake.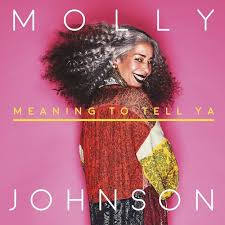 Opening for Molly today are:
Eric Clapton and JJ Cale
Jann Arden
Sting
Junior Wells
New Leon Bridges
New Brothers Osborne
New Bettye LaVette
Bruce Springsteen with Rosanne Cash and Doctor John
CCR
Allman Bros
Justin Townes Earle
Cannonball Adderley
And tunes that lean towards Sunday and Mothers Day.
And if you'd like to hear The Complete Molly Johnson conversation then subscribe to Mulligan Stew The Podcast on Spotify, Google Play Music and ITunes.
Happy Mother's Day!!!
PLAYLIST:
| | | |
| --- | --- | --- |
| Mulligan Stew Mothers Day Weekend 2018 | May 12 2018 | |
| i found you | alabama shakes | boys and girls |
| gotta find a … | paul reddick | ride the one |
| i just want to feel something | sam bush | storyman |
| www.deanehouse.com | Todays Guest on The Stew Molly Johnson | |
| the horizon has been defeated. Motherless child | Jack Johnson | en concert |
| motherless children | rosanne cash | the list |
| don't cry sister | eric clapton. JJ cale | thr road to Escondito |
| My Mother sang | The Fugitives | The promise of strangers |
| Mulligan Stew Mothers Day Weekend 2018 | Molly Johnson guests in hour 2 – New Music. Heritage Career. | |
| The long Goodbye | jann arden | these are the days |
| if you love somebody (live) | Sting | All this time |
| snatch it back and hold it (live) | Junior Wells | Live at Theresa's |
| www.mulliganstew.ca | Mulligan Stew The Podcast on Spotify. Google Play and iTunes | |
| one more night in Brooklyn | Justin Townes Earle | Acoustic Cafe |
| slow your roll | Brothers Osborne | Port Saint Joe |
| you don't know | leon bridges | good thing |
| Mulligan Stew Mothers Day Weekend 2018 | Mulligan Stew The Podcast on Spotify. Google Play and iTunes | |
| The night they drove old dixie down (live) | The Allman bros | Endless Highway – The music of The Band |
| run thru the jungle | CCR | Cosmo's Factory |
| Sea of heartbreak | Rosanne Cash and Bruce Springsteen | The List |
| Right place – wrong time | Doctor John and Bruce springsteen | musical mojo of dr john |
| things have changed | Bettye LaVette | Things have changed |
| Coming up NEXT | Molly and Mully | |
| Mercy.Mercy.Mercy | Cannonball adderly | Live at the club |
| www.coyotesbanff.com | NEXT – Its Molly and Mully. Molly Johnson brings new music | |
| Molly Johnson Interview | Total interview on Mulligan Stew – The Podcast | Meaning to tell ya |
| better than this | Molly Johnson | Meaning to tell ya |
| Molly Johnson Interview | complete interview podcast on Mulligan Stew -Spotify.iTunes | |
| lady day and john coltrane | molly johnson | Meaning to tell ya |
| Molly Johnson Interview | complete interview podcast on Mulligan Stew -Spotify.Google Play | |
| Inner City Blues | molly johnson | Meaning to tell ya |
| Molly Johnson Interview | | |
| Gone | molly johnson | Meaning to tell ya |
| Molly Johnson Interview | complete interview podcast on Mulligan Stew Podcast | |
| protest song | molly johnson | Meaning to tell ya |
| | | |