Welcoming The Winners Guests include Road 13, Fitzpatrick and Township7
 Every year in Canada Wine Align, the toughest wine competition in the country, announces its list of winners.
This week We welcome The Winners.
After being  a top 10 winery for many years Road 13 has finally found the #1 position.
In 2018, over 1800 wines from 257 wineries were in competition for the National Wine Awards.  Judging were 22 of the very best tasters in the country.
After winning 15 individual awards including a rare Platinum for their Roussanne Road 13 were given the coveted title Canadian Winery of the Year. 
I found  managing partner and son of founders Mick and Pam Luckhurst , Joseph Luckhurst  in the barrel room and cellar recently. Still enjoying the glow of the awards we talked about The Golden Mile, the dirt, what effect this may have on their wines and winery and why they made the decision to make Rhone style wines.

Congratulations to winemaker Jeff Del Nin, his team in the Vineyards and in the q, the tasting room staff, growers, distributors, marketing and media teams,.
Enjoy the ride while we enjoy the wines.
The other segment of the same competition that interests me is Top 10 Small Wineries. (annual production of 10,000 cases or under)
Ontario's Two Sisters and Hidden Bench were 1&2.
Third was BC's Fitzpatrick Family Wines who won 5 Gold, 1 Silver and 1 Bronze to become this years #3 Small Winery in Canada and #1 Small Winery in B.C. 
Gordon Fitzpatrick is well known to  Canadian wine fans.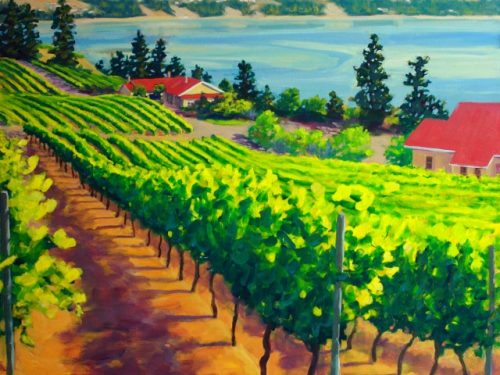 In 1986 his family started Cedar Creek  Estate Winery and 8 years later they bought Greata Ranch located on the  main highway between Peachland and Summerland.
In 2014 Cedar Creek was sold to the Von Mandl Family and Gordon made serious plans for Greata Ranch, which has been somewhat forgotten over the years.
A mere 4 years later Fitzpatrick Family Wines have become a destination for fresh whites and a serious house of bubble.
I found Gordon on the back deck overlooking the Chardonnay and Pinot Vineyards and Okanagan Lake.
Congratulations again to the complete team that helped to create a rising star in Canadian Wine.
Finally we come to our old neighbour,  when we lived on the Naramata Bench, Township 7. 
Township 7 began their winery in the Fraser  Valley in 2000.
Several years later they bought a property on the  Naramata Bench.
New planting's of Chardonnay, Pinot Gris, wonderful Merlot and Malbec followed.
Mike and Lori Raffan created a wonderful destination known for its wine quality and focus.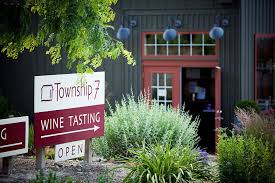 Mike  is now the GM working with new owners.  He's overseeing an expansion of both winery locations, new tanks, barrels, equipment, larger tasting rooms and the recent acquisition of the Blue Terrace Vineyard in Oliver.
Winemaker Mary McDermott joined the team after many years in Ontario. (Trius at Hillebrand, and 30 Bench)
She's expanding small lot production and a fine wine program.
Watch for  Bordeaux Reds and Bubble.
All in all, you want to keep an eye on Township 7  and watch for their new labels and releases. This is going to be a very interesting story to follow.

Also keep an eye on their Langley location as well.
We met up with Mary and Mike at Ancora Waterfront Dining across  the water from Granville Market.
We tasted the new:
2017 Reserve Sauvignon Blanc and 2017 Viognier
2014 Cabernet Sauvignon and NBO 2014 Magnum
2015 Reserve Merlot
Cheers to Township 7
Podcast: Play in new window | Download
STORIES WE'RE WORKING ON
Cowichan Wine Festival
Tour of the Okanagan
Chef Andrey Durbach
Margaret Leonardi – Winemaker at Adorada in Mendocino