A Church. A Fort. A Chef and One of NZ's Best,  Felton Road.
Podcast: Play in new window | Download
OK.  Let's take them one at a time.
Evan Saunders –  Winemaker at Blasted Church  (Okanagan Falls)
Evan grew up on the Canadian prairies.
Became a Micro-Biologist at UVic.
Which led to the wine course at Brock in Ontario and finally his first
winery at Osoyoos La Rose and a 3-year mentorship with their winemaker
Pascal Madevon.
Now Evan's  talent has been fully recognized at Blasted Church, south of
Penticton, overlooking Skaha Lake and part of the Okanagan Falls Winery
Assn.
Blasted Church is unlike any other winery in Canada.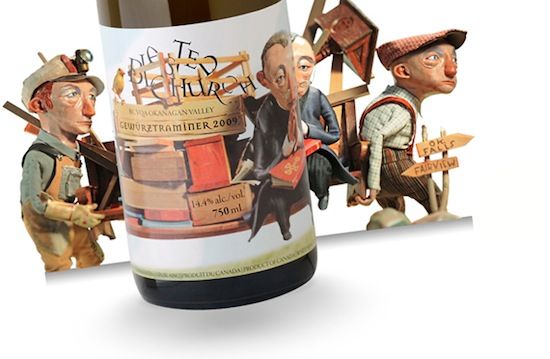 They make over 30 different wines, even though they keep changing, their
labels are totally one-of-a-kind  and very likely bother some wine fans who
happen to be religious.
Best of all, they make wine fun and funny AND they come through with solid
wines in the bottle.
Evan has created several new wines. The revered series featuring Answered
Prayers AND Nectar of the Gods (in partnership with pal  Pascal Madevon)
Plus Bible Thumper.
Down the road watch for Evan's influence on the Blasted Church reds  That's
his specialty.
Heads UP – we didn't have room for all of Evan's recommendations for last
week's Winter Whites.
Here's his list of Winter Whites  which he talks us through on today's show
.
2017 Sauvignon blanc – 25% barrel fermentation, about 6% Semillon, estate
Sauvignon blanc
2017 Small Blessings Semillon – about 45 cases, barrel fermentation, 11
months on lees, Semillon from the North shore of Osoyoos Lake
2016 Bible Thumper – barrel fermentation, Viognier, Roussanne blend
2016 Nectar of the Gods – Petit Verdot, Cabernet Sauvignon, Cot noir blend,
22 months in barrel, about 50% new French oak  ( It's not White. Evan will
explain)
<https://www.ofwa.ca/> https://www.ofwa.ca/
Rolf de Bruin – Fort Berens co-founder. (Lillooet BC)
Rolf and his wonderful wife/partner Heleen Pannekoek share the management
duties at  Fort Berens  in Lillooet, BC
They were the first winery in the area but  Rolf tells us about the four
growers now operating in the area plus yet another winery   Cliff and Gorge
will open at Texas Creek Ranch,  Spring 2019.  Plus a new GI has been
approved for Lillooet and so beginning with their next vintage they will be
able to use Lillooet VQA on their labels.
Rolf was also happy to announce the release of their exceptional  Reserve
Wines
Riesling
Cab Franc
Meritage
Plus their Classics
Pinot Noir
Cab Franc
Meritage
In May they planted their new Red Rock Vineyard with 4 acres of Merlot and 5
acres of Cab Franc.
Early in 2019, they plan to plant more Riesling, Cab, Gruner, and Merlot.
Things are looking good in Lillooet.  Have a listen to Rolf and then make
plans to give them a visit in 2019.
Nigel  Greening –  Felton Road  (NZ)
Maker of one of the world's finest Pinot Noirs. No Question.
This Central Otago icon produces stunning biodynamic wines year after year.
These guys really know their stuff.
In 2010 Felton Road was designated a Grand Cru winery of New Zealand. This
Grand Cru status, currently only held by two other wineries (including Ata
Rangi), recognizes the premier producers of Pinot Noir in New Zealand.
Winemaker Blair Walter is a master of less is more, Pinots are unfined and
unfiltered and challenge the very best the world has to offer.
Felton Road is situated on warm, north facing slopes of glacial loess soils
in Bannockburn, in the heart of Central Otago. The modern gravity fed winery
receives 100% estate grown fruit from its three vineyards that are all
farmed biodynamically and are fully certified by Demeter. Minimal
intervention in the winemaking with such practices as wild yeast, no fining
or filtration, allow the unique vineyard characters to further express their
considerable personality.
Since the first vintage in 1997, Felton Road has acquired a formidable
worldwide reputation.
Felton Road is one of the legendary names in New Zealand wine. They're
probably the most famous of the Central Otago wineries, making some highly
regarded Pinot Noirs.
It was my great pleasure  to spend a number of hours talking to Owner, part
time chef and team leader Nigel Greening.
Looking for one of the best wineries anywhere in NZ?
You've just found it.  Felton Road.
Chef Andrey Durbach – Il Falcone (Courtney, BC)
Andrey and Sian Durbach moved to the Comox  Valley, Vancouver Island over
a year ago from Vancouver. They had been  running multiple  downtown
Vancouver restaurants. High Tempo Rooms.
Before he became an outstanding graduate of the CIA,  Culinary Institute of
America in NYC, he had first made a name for himself in Vancouver working
with Bishop's, Il Giardino and Café de Paris.  He launched Etoile in 96.
There he learned the hard lessons of running a restaurant. Sold the place
and hit the road re-learning the trade.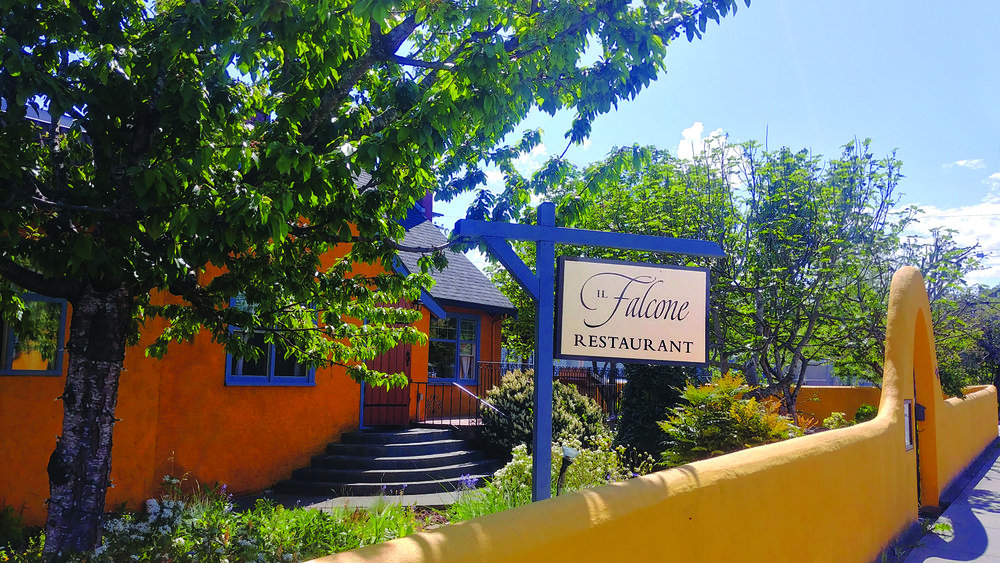 When Sian and Andrey returned to Vancouver 2 years later they partnered with
Chris Stewart and opened Parkside, La Buca and Pied-a-Terre. Cafeteria
followed with its $20 or less menu. My favorite was Sardine Can. A tiny
room in Gastown.
No matter what the location I always noticed and liked his cooking.
Well,  imagine my delight to discover that Sian and Andrey had opened Il
Falcone in downtown Courtney.
Why Courtney?
Andrey explains in the interview that he and Sian finally wanted to work for
themselves and the best place was a former Mexican restaurant in Courtney.
Surrounded by burnt yellow stucco walls enclosing a courtyard filled with
black cherry, fig, and other fruit trees..you swear the restaurant was
somewhere in Italy.  Perfect. We've been three times and all three we sat
outside under those trees. Glorious.
And the food?
Italian dishes with no excuses…Nothing but the best. It helps that they're
surrounded by hundreds of farms, fisheries specialists and foragers working
the land. One of the best cheese makers in Canada is right around the
corner.
Andre says he and Sian pretended to be Italians moving to the Comox Valley
and they did what they'd do back in Italy..source and cook local. Cook like
the Italians would.
The wine menu?  Almost exclusively Italian.
For anyone who's traveled to Italy..no matter what small town you were in,
there would always be one Italian restaurant as its centerpiece. That's what
they've tried to do here. Just off the beaten path..a discovery waiting to
happen.
Is it worth the flight or ferry? Yes and absolutely yes.
As Andrey told Montecristo magazine..
"My kind of diner is one who loves unctuous, delicious food, and is willing
to chance the unfamiliar. It's a diner who knows and trusts the kitchen and
the servers, a person who wholeheartedly invests in the visceral experience
of a meal. This is what I'm after."
I guess the question for you is – are you that diner?
Podcast: Play in new window | Download
STORIES WE'RE WORKING ON
Holiday Wines
Wine Gifting
Best interviews of the Year