The great thing about Serena Ryder's  Christmas Kisses album is that –
she's done all her homework.
Serena grew up in a family that embraced Christmas and their soundtrack
included Ella, Sarah Vaughn, Nina Simone, and Chet Baker.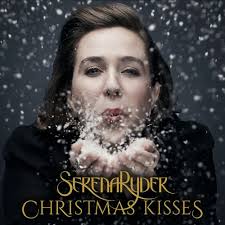 Classic singers..all from the jazz world.
So Christmas Kisses worked on two levels for Serena.
One – it allowed her to do her first season album with classic Christmas
songs she's loved since she was born.
Two – she finally gets to do something she's long wanted to do –  a jazz-influenced
album.  I sure hope it's not the last.  She gets IT.
And the last track on the album…Christmas Song was recorded on her iPhone
for her producer, the legend Bob Ezrin as a demo.
Bob liked it so much he put it on the album – as is!!
Merry Christmas
Enjoy!
-TDM
PLAYLIST:
| | | |
| --- | --- | --- |
| The Christmas Stew | Dec 15 2018 | |
| This is The Christmas Stew | with Terry David Mulligan | www.mulliganstew.ca |
| baby, its cold outside | she and him | she and him Christmas |
| Peace in the World | The Subdudes | Christmas Gumbo |
| Christmas Song (live) | Dave Mathews Band (chicago) | a very merry christmas |
| www.deanehouse.com | Todays Guest – Serena Ryder | Christmas Kisses |
| home for the holidays | eric clapton | happy christmas |
| white christmas | serena ryder | christmas kisses |
| every day will be like a Holiday | William Bell | Christmas soul |
| all i want for christmas is you | carla thomas | christmas soul |
| Tonight Serena Ryder – Christmas Kisses | Mulligan Stew | |
| Merry Christmas Baby (live) | Bruce Springsteen and the E street band | a very special christmas |
| merry christmas (I dont want to fight) | Little Steven and the disciples of soul | Soul Fire live |
| By christmas eve (live) | John legend | a legendary christmas |
| christmas must be tonight | The Band | Islands |
| Christmas in prison (live) | John Prine | Christmas |
| www.coyotesbanff.com | Coming UP – Serena Ryder Interview | mulligan stew |
| angels from the realms of glory | annie lennox | Cornucopia |
| song for a Winter's night | sarah mclachlan | a winters night |
| The Christmas Stew | NEXT – Serena Ryder | |
| Christmas Kisses | Serena Ryder Interview | |
| jingle bell rock | Serena Ryder | Christmas Kisses |
| Christmas Kisses | Serena Ryder Interview | |
| Christmas Kisses | serena ryder | Christmas Kisses |
| Serena Interview | | |
| white christmas | serena ryder | Christmas Kisses |
| Serena Interview | | |
| blue christmas | serena ryder | Christmas Kisses |
| Serena Interview | | |
| Have yourself a merry little christmas | serena ryder | Christmas Kisses |
| Christmas Song (live) | serena ryder | Christmas Kisses |
| The Christmas Stew | with Terry David Mulligan | |
| God rest ye merry Gentlemen | T Bone Burnett | Acoustic Christmas |
| Coldest night of the Year | hawksley Workman | full moon eleven |
| Long road home | Sheryl Crowe | Home for Christmas |
| Christmas ( baby Please) | Darlene Love | Baby please come home |
| christmas all over again | Traveling Wilburys | A very special Christmas |
| All the gifts I need | JD McFerson | socks |
| Mulligan Stew | | |
| Baby its cold outside | Glee | soundtrack from Glee |