Fishing, Food, Friends, Fluids – Year 8
(A Chef, Winemaker,  Master of Wine and me)
THE SHOW
For 8  years now, Master of Wine Rhys Pender, Winemaker/Owner at Orofino John Weber,  Award winning  Chef at Waterfront Bistro Kelowna Mark Filatow and yours truly have gathered once a year to reconnect through fishing. On oceans, lakes, streams, rivers and sharing campfires, food, wines and stories.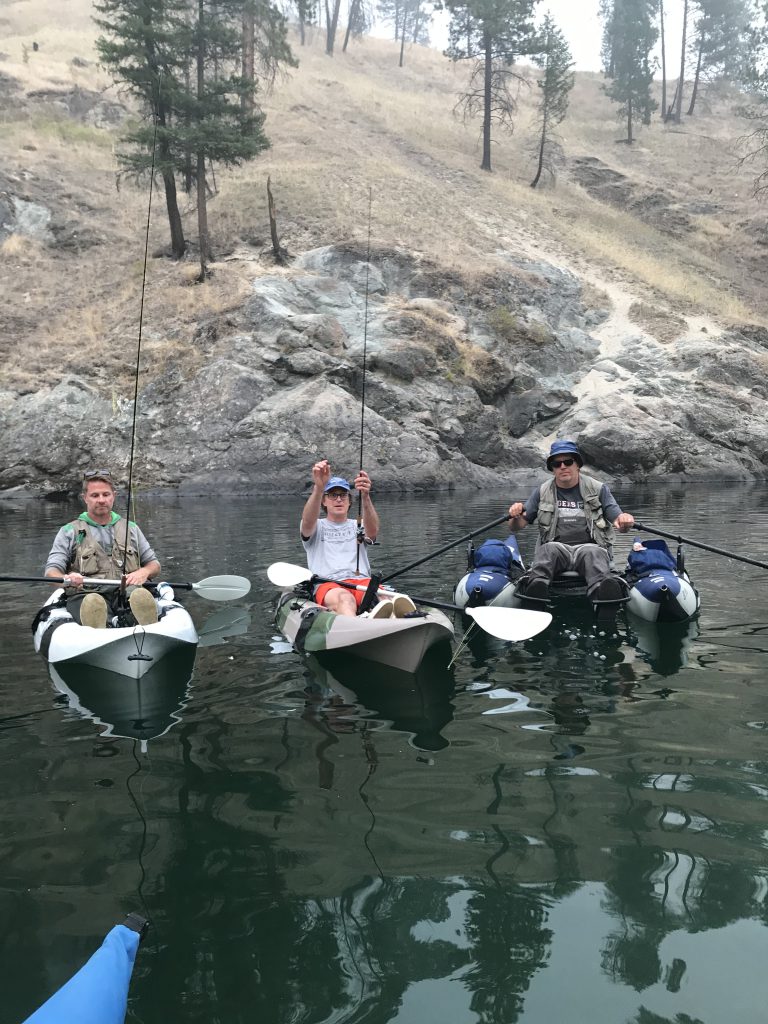 2020 has been such a crazy mess on so many levels,  that getting away – just for two days – was so the right thing to do.
It was Mark who suggested drift fishing the Kettle River, one large valley East of the Okanagan. There's no pristine chain of blue lakes down this valley but the river is gorgeous and home to beautiful trout.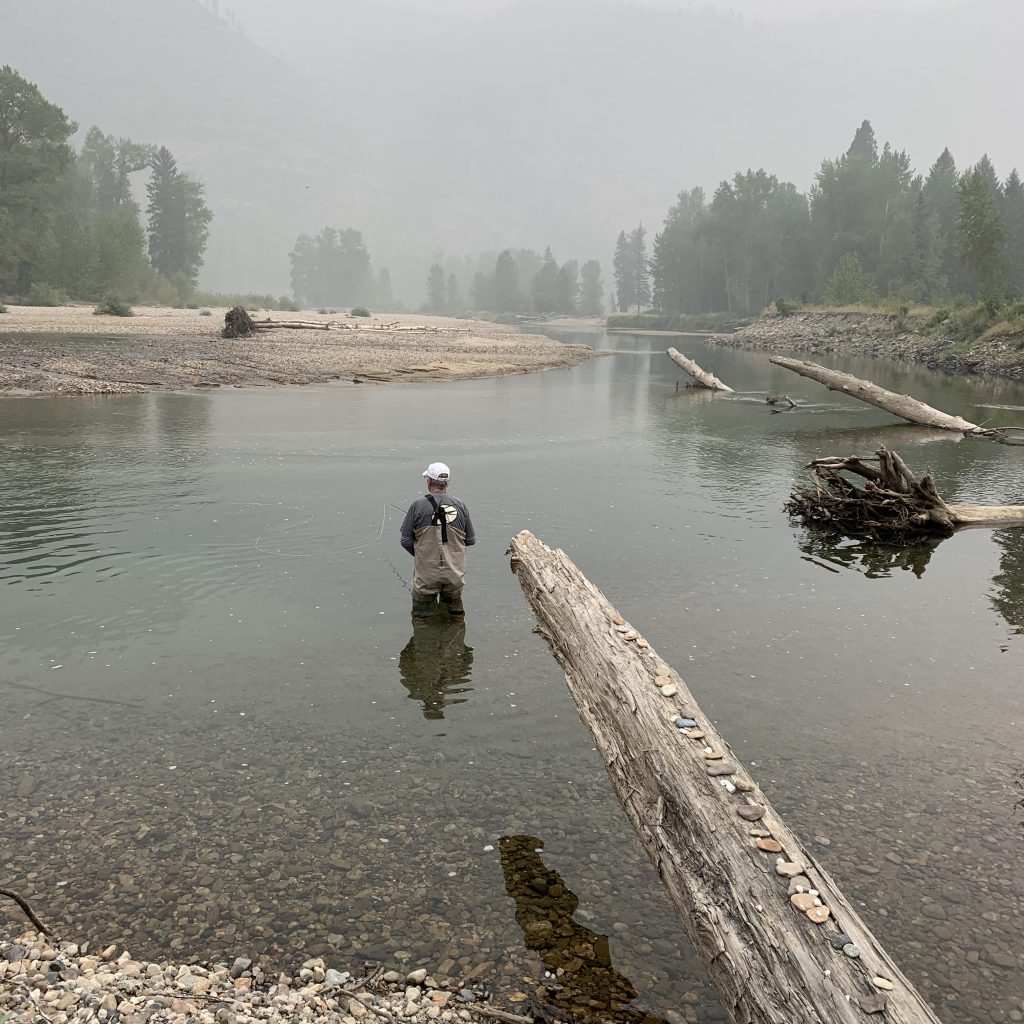 Day one we drifted the Kettle River. Fished the rapids and pools for about 5-6 hours..had a spectacular dinner thanks to Mark. It featured the annual Tomahawk Chops cooked on an open fire (this year the fire was a charcoal fueled Weber BBQ)
Dinner cooked all on the charcoal fueled Weber. Dry Aged Beef Tomahawk Steaks.Organic Corn.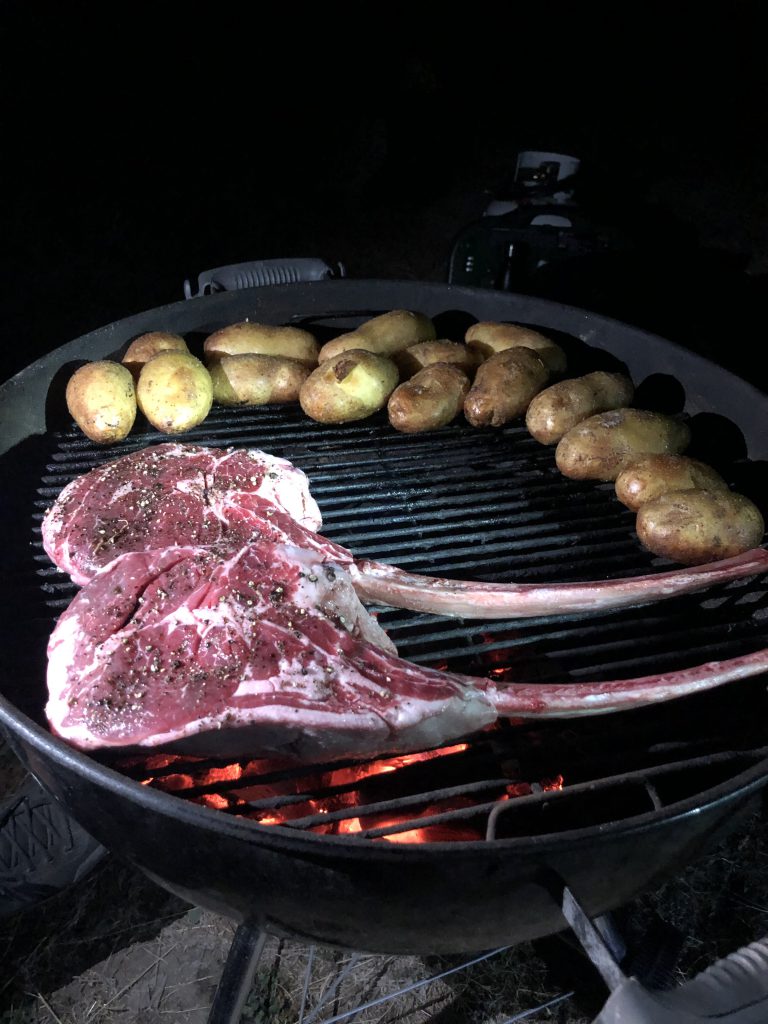 Potatoes and Chive sour cream. Tomato and Cucumber Salad. Homemade BBQ Sauce
The wines we poured were like a liquid gift… better and better.
I headed for bed while the other three played campfire dj. I happily slept through the noise.
I put on a master class in campfire coffee- for an audience of one. Me!
When the guys woke up Mark put on his usual healing breakfast – Kale eggs with Rhys's great bread (photos included) and then off we went.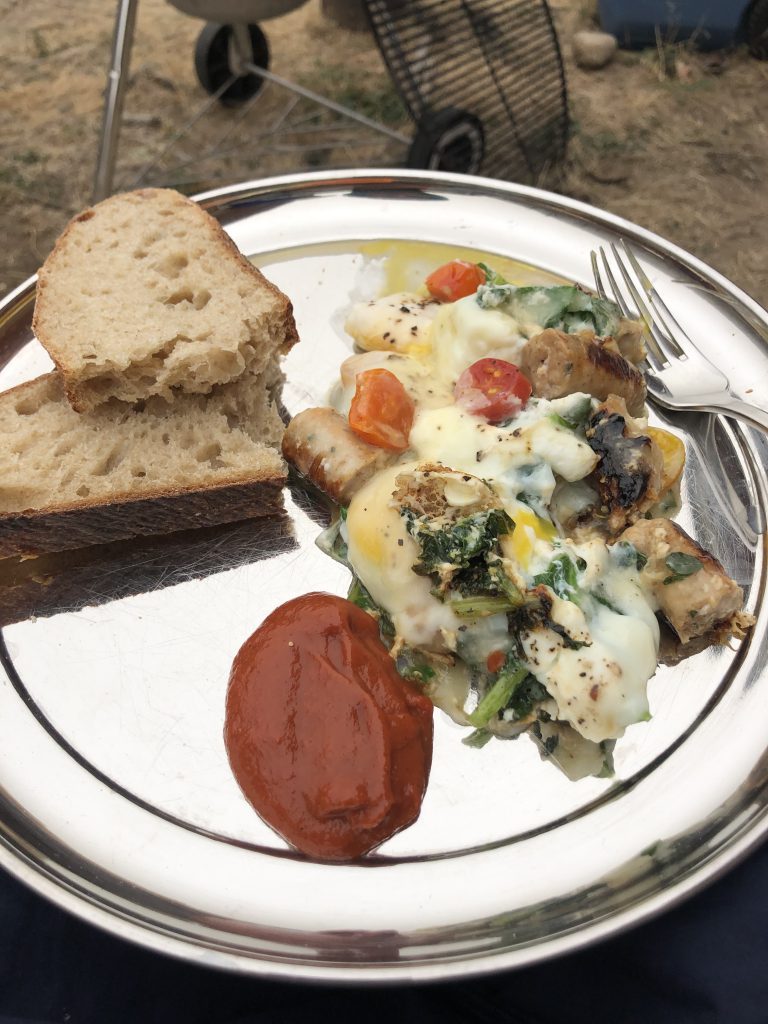 Day two, we drove Highway 33 East and identified 3 dark pools that looked promising and accessible. So, instead of drifting, we spent the day fishing those pools and walking the river.
Mark had two great fishing days, so did John. Rhys had his moments and I came up completely skunked. But I still spent two days with these friends, on a river and shared fishing, food and fluids.
It's hard to put into words how wonderful it all felt.
The last dinner was spring salmon I had caught in Ucluelet and we BBQ'd on the fire with a wild variety of wines for pairing.
Dinner
Terry's salmon with the potato, corn, shishitos and vegetable succotash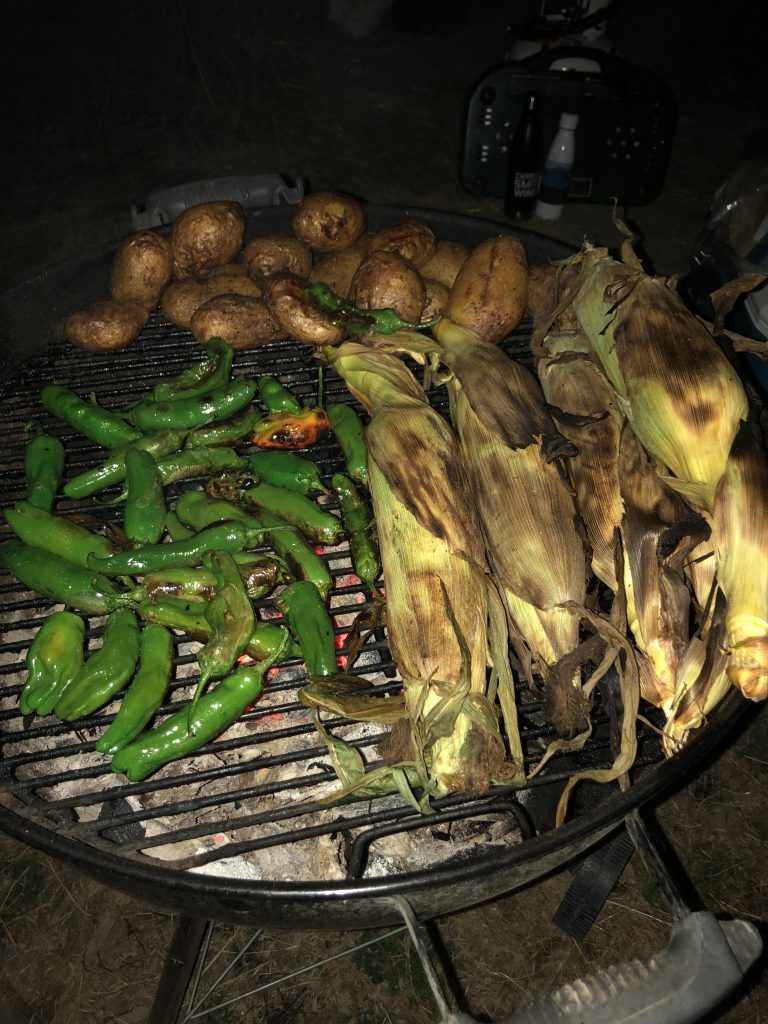 Wines in no particular order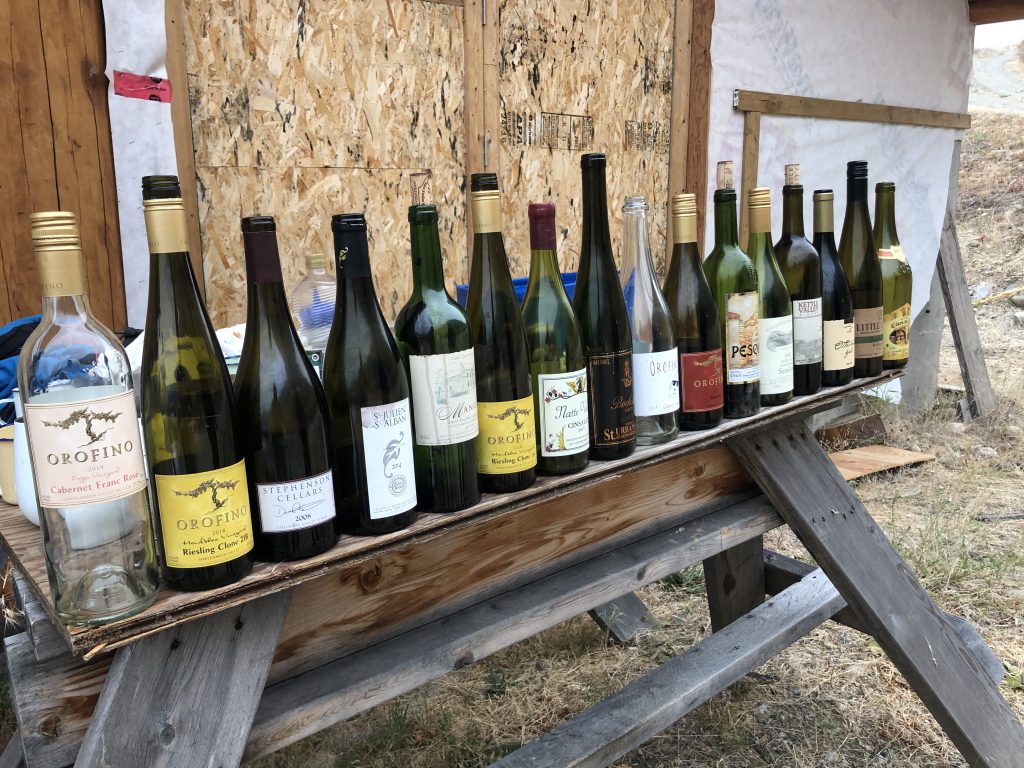 Mark
Burge Family Barossa Valley Olive Hill Vineyard Semillon 2006
Clai, Ottocento 2014, Istria Croatia
Jean Bourdy, Cotes du Jura Blanc 2008
Eric Texier, St. Julien St. Alban, 2014, Rhône, France
Stephenson Cellars, Syrah 2008, Columbia Valley, Washington
John
 From Orofino:
Gamay bubble 2019
Hendsbee Vineyard Riesling clone 21B 2018
Hendsbee Vineyard Riesling clone 239 2018
Gamay 2019
Plus..
Pozza Vineyard cab franc rosé 2019
SA Natte Valley Cinsault 2017
Domaine de Pothiers "Reference" Loire Gamay
Rhys
Pesquera Ribera del Duero 2011,
St. Urbans Hof Ockfener Bockstein Kabinett Riesling 2011
Terry
Mission Hill  2007 Point Noir
Desert Hills 2006 Mirage
Inniskillin Dark Horse 1996 Riesling Ice Wine
We talked of Covid19, the state of wineries and restaurants this year and what 2021 may bring, wines we brought, about each of their careers and of course,  fishing.
Next year?  Let's just say "It's under discussion."
Thank you gentlemen..it was an honour and a dream.
STORIES WE'RE WORKING ON
Angus An – Maenam Cookbook
Zoom tasting at Yalumba
Noble Ridge
Sandra Oldfield – Back Again!!
Vanessa
Mayhem and Meyer – All in the Family
Fonseca Zoomathon from Portugal
Dining at Row 14 in Cawston
Sam Roberts – Music and Wine
Tightrope
Lock and Worth/Nichol
Taylor Fladgate – Zoom from Portugal