Maenam. The Book  with Angus An. Vanessa Vineyards with Howard Soon & The  Amazing Row 14 at Klippers.
THE SHOW
 Chef Angus An has been a cutting edge  fixture in West Coast dining for many years now.
His profile in Vancouver started with Gastropod on Fourth Ave in Kitsilano.
It was 2006. Angus was 26.
Even though Gastropod was his  dream restaurant and it won countless awards and rave reviews it couldn't survive  the downturn in the Worlds economy and closed in  2009.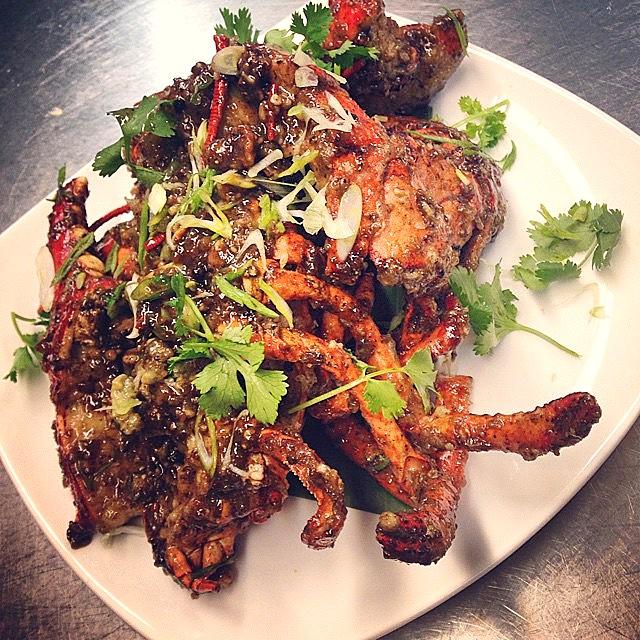 He rebranded as Maenam. A new approach to Thai food with freshness, innovation, new flavours and balance featuring seasonal local ingredients.  It was a combination of Thai family style dining and street food. Maenam became so popular it was named best Restaurant in Vancouver by Van Mag in 2016. Also best Thai in Vancouver many years running.
Angus and his wife and partner Kate now run a mini empire on the West Coast.
Their brands include
Maenam.
Longtail Kitchen, South East Asian Street Food Concept.
Fat Mao Noodles, Thai-Chinese Noodle Bar in Chinatown Vancouver!
Freebird Chicken Shack, in Chinatown Vancouver!
Sen Pad Thai, on Granville Island!
Popina Canteen – Granville Island
Maenam is a  beautiful book..like the food it celebrates – bright, fresh, colourful.
I went looking for two elements.. What wines to pair with a family style dinner..which may have as many as 5-6 dishes..each with its own spices and flavours. Happily Angus asked Kurtis Kolt to handle that chapter and Kurtis pulled it off.
The other feature I wanted to see was the "how to" suggestion list.
How to prepare a crab or lobster , work with delicate  spot prawns  and oysters.
And the spices..which ones and where do I find them?
Same thing with "ingredients"..its all handled well here.
Angus took me through his seasonal  menus  &  cooking in the book..so you get to hear about Fall and Winter menus.
NOTE*  My trusty field recorder decided to stop working just as we got started. I pulled out my iphone and hit record … Angus picked up right where we had left off and saved the day.  Apologies for the audio.
One last suggestion – Think about birthdays, anniversaries and Christmas down the road.  This book is a perfect gift for chefs and foodies. Or yourself!!
Maenam: A fresh approach to Thai Cooking comes in hardcover and EBook.
Vanessa Vineyards  – Howard Soon Winemaster (Similkameen)
The combination of Similkameen farmland  that's  recommended by vineyard developers Richard Cleave and Robert Goltz  is the first hint that you're on to something very special.
Both of those Okanagan legends are farmers and winegrowers of the highest order.
The second hint is that the winemaker working  the vineyards and fruit is none other than Howard Soon. He's in the middle of his 41st harvest… the longest such streak in Canada, the man who created Sandhill Wines and was awarded the Order of Canada for his devotion to  and leadership in  Canadian Wine.
With his partnership at Vanessa, Howard has come full circle as over the years he sourced many of his wines from this very vineyard.  Even though its been expanded and new plantings are set in the hard soil, they still will only produce 3,000 cases of wine.
Just what Howard loves. Small lots. Very well made.
This time around we taste
2019 Rose
2016 Syrah
2019 Viognier
And then we had a great discussion about the Vanessa Right Bank. Check out the blend
Merlot Clone 181 Bordeaux, France
Cabernet Franc Clone 331 Pyrénées-Atlanliques, France
Cabernet Sauvignon Clone 169 Bordeaux, France
Lots to like here..from the outstanding wines, the  leadership, the staff and especially Howard Soon.  Bravo!!
www.vanessavineyard.com (Similkameen Valley)
Anna-Maria Klippenstein – Co-Owner and Coordinator Row 14 (At Klippers in  Cawston, Similkameen Valley)
Derek Gray – Executive Chef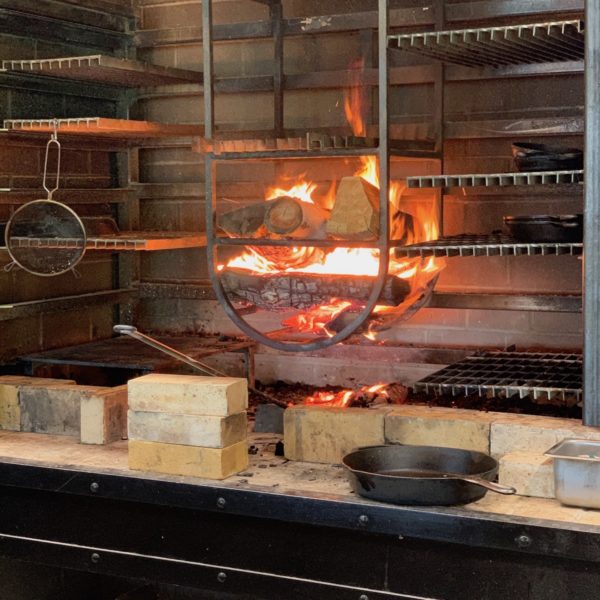 The Similkameen is not only a rapidly growing wine region but it's been the organic farming capitol of Canada for a number of years. Klippers Organics has been part of the farming community since 2001.
Klippers is  also the home of Untangled Cider.
So what could be better than to plan and build a great restaurant right in the middle of the farms and one farm in particular Klippers Organics.
They're well known for their fruit and vegetables at farmers markets around the province.
Anna-Maria's husband and partner Kevin began this dream by including partner and Executive chef Derek Gray. That was key to the direction they wanted to take the business.
Derek had spent a great deal of time creating with  the open hearth kitchen at Savio Volpe in Vancouver.
The three of them planned  a restaurant that cooked everything on the open hearth..for all the diners to see and enjoy.
Little did they know they would open just in time for a World Pandemic in 2020.
They closed…made changes to abide by the changing health rules…and re-opened to acclaim and many customers.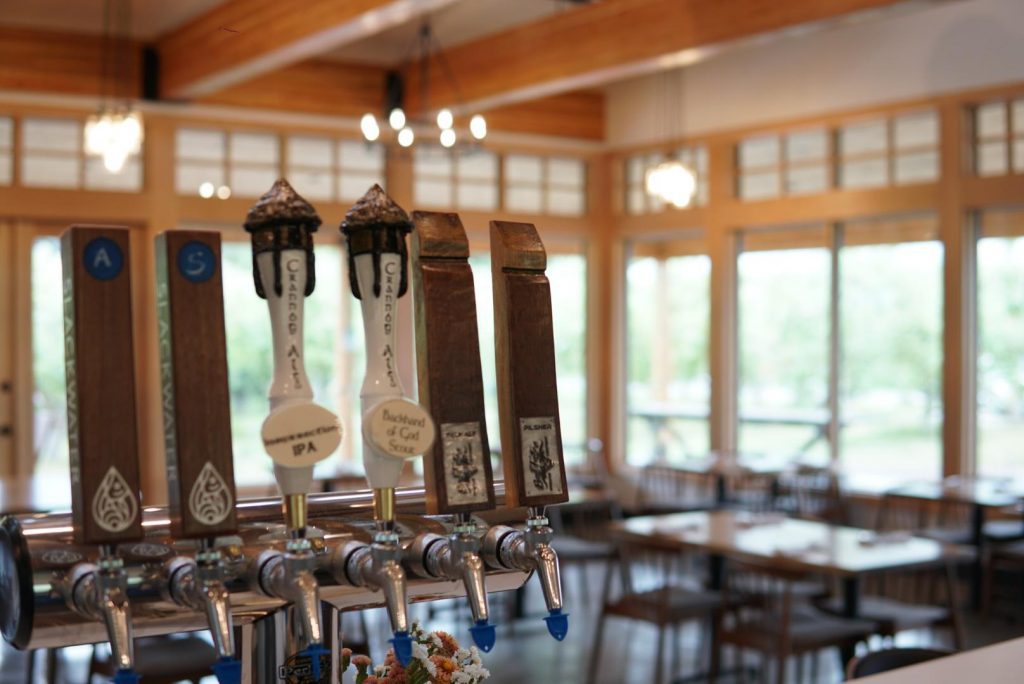 They use produce that they are  surrounded by at  Klippers Organics and the hearth and  wood fire creates  flavours and  textures like few others.
The restaurant sources olive oil from Salt Spring Island and balsamic vinegar from the Cowichan Valley.  It also gets its eggs and meats from local farmers in the valley.
It's fair to say, there has been nothing like this dining experience in the Okanagan and frankly the whole of BC.
The menu is wildly engaging. Trust me on this..very few dining experiences you have tasted recently  will come close to this.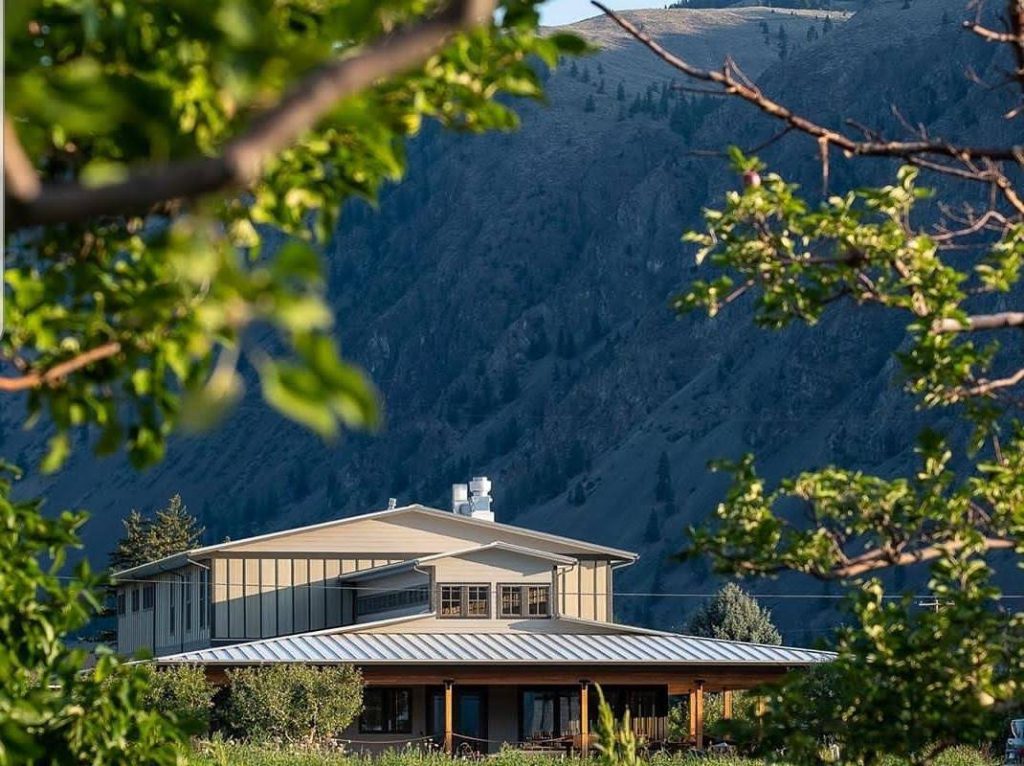 Here's a menu from September. Expect October to be different as what's coming from the fields and fishery into the kitchen changes seasonally.
https://rowfourteen.ca/wp-content/uploads/2019/08/Row-Fourteen-Dinner-Menu.pdf
 Best of all, they proudly feature  a wide variety of Similkameen wines.
STORIES WE'RE WORKING ON
Zoom tasting at Yalumba
Noble Ridge
Sandra Oldfield – Back Again!!
Mayhem and Meyer – All in the Family
Fonseca Zoomathon from Portugal
Sam Roberts – Music and Wine
Tightrope
Lock and Worth/Nichol
Taylor Fladgate – Zoom from Portugal
A return to Hillside
Doin' The Douce in North Vancouver.  Douce Diner