In Ok Falls with Noble Ridge and Meyer/Mayhem 
Noble Ridge Vineyard Winery  is named for the noble varieties of grapes grown and the ridge that divides the land on which they thrive. This noble name is a statement of values and a reminder of the hard work and dedication on which the winery was built.
Jim and Leslie D'Andrea began their winery in 2001. When they purchased the property it had only 3.5 acres of vines. Since then they have planted an additional 20 acres and have grown their dream into an award winning winery. Tending to vineyards and making the wines is all done by hand on site by a team of dedicated workers who strive every day to create exceptional wine that reflects its noble namesake. Guests are always welcome to enjoy the breathtaking views with a picnic overlooking Vaseaux Lake or to spend time exploring the vineyard with a tour.
Our guest is co-founder Leslie D'Andrea. The driving force behind the team at Noble Ridge.
As an interviewer I can tell you  she's the best kind of guest. Ask the right questions and figure out along the way where her  brakes are.
She lives for these wines. They reward the seeker.  Leslie is the poster child for passionate wines.
She'll take us through
2019 Stony Knoll Chardonnay
A new vintage of Mingle. (Pinot Grigio, Gewurztraminer, Kerner.)
2017 Reserve Pinot Noir
2015 The One Sparkling
Plus a heads up on the  OK Falls Wine Assn open house. A Holiday Theme.
November 14-15.
Noble Ridge itself will be open until Dec 31. Tastings on Friday and Saturday 11-4pm
Open for sales Tuesday – Saturday
JAK Meyer and Terry  Meyer  Stone – Meyer Family Vineyards/Mayhem Winery
Several years ago Terry Meyer Stone along with her brother JAK Meyer and their spouses, Andrew Stone and Janice Stevens  launched their new custom crush wine project: Mayhem Wines Inc.  
JAK is the driving force behind the award winning wines at Meyer Family Vineyards and Meyer Winery.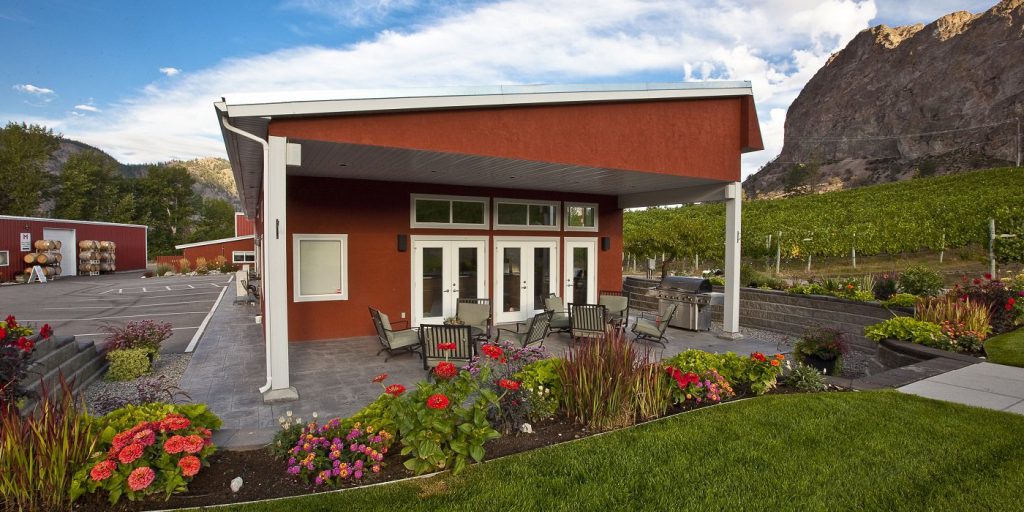 JAK explains the difference between Meyer Family and Meyer Wines.
Terry and JAK have been crisscrossing each other and their own wine businesses over the last decade.
JAK and Janice  at Meyer Family Vineyards and  Terry Lynn and Andrew at Anarchist Mountain Vineyards. Both wanted to grow their own brands, but quickly realized that they were becoming each other's competition with regards to their Chardonnay and Pinot Noir production.
The seed for launching Mayhem Wines was planted one evening  over several glasses of wine.  Over wine?  How unusual.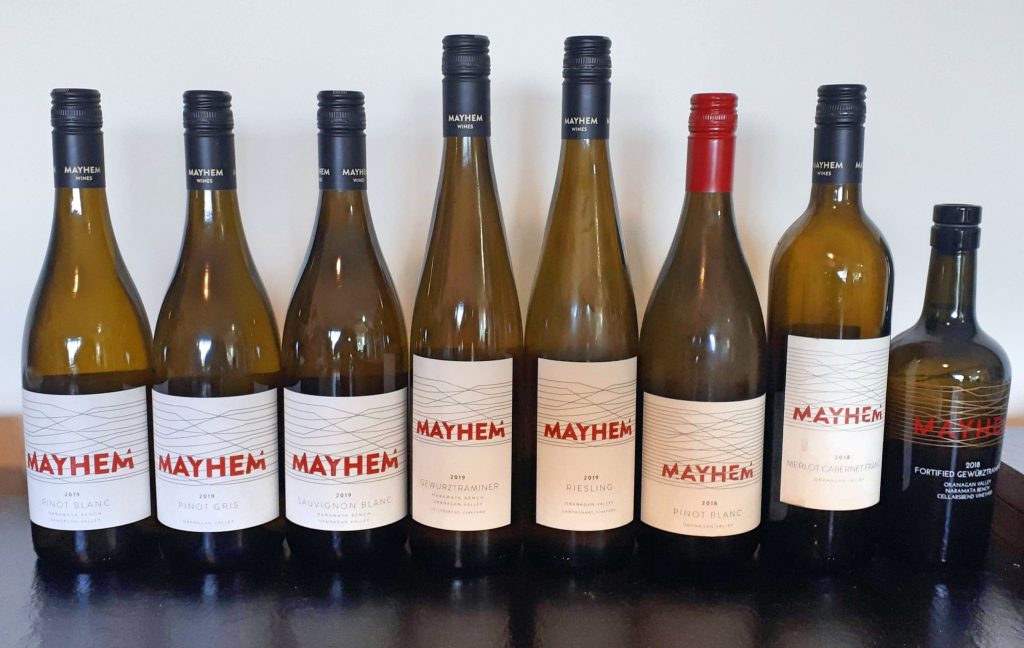 Australian born NZ raised  Ajay Chavan is the winemaker at Mayhem.
For those of you looking for terrific wines at a great price, remember the name Mayhem.

Terry Lynn and I taste our way through their latest releases. Almost all at $15.95!!
2019 Pinot Blanc (here's the start to your weekend)
2019 Pint Gris. (Lemon. Honey. Ripe stone fruit)
2019 Riesling (Hello Granny). $18.26
2019 Gewurztraminer. Texture and peach in a glass. Great nose.
2019 Sauvignon Blanc  a beautiful balance of oak and Meyer Lemon. Spices.
2018 Merlot/Cab Franc.  75/25 New and Used Oak for 9 months. Plum. Herbs. Beautiful dark fruit.  OK. Here's the plan.  Buy several.  Enjoy several now. Hide at least one or two bottles for 2 years. Will get crazy good. $21.74
JAK takes us through his latest releases. Keep in mind MFV has earned the distinction of being judged one of the top wineries in Canada.
Acclaimed for sublime Chardonnay and Pinot Noirs. Winemaker is Chris Carson.
Small lots. Burgundian in style and manner. 8,000 cases.
2019 Okanagan Valley Chardonnay. Very popular with wine fans. A blend of four different vineyards. Small batches making one perfect blend. Older oak and stainless steel.
Flavours of lemon, apple, thyme. Vineyard planted in 1996. Cellar to 2024.
2018 McLean Creek Road Chardonnay. 100% French oak. 22 New. Cellaring potential of up to 10 years. Glorious.
2018 McLean Creek Road Vineyard Pinot Noir 
Clones are Pommard 91
Dijon 114, 115, 667, 777
100 French Oak.  25 new.
Cellar for 10 years
One of the very best wines in Canada.
Stories we are working on:
Zoom tasting at Yalumba
Sandra Oldfield – Back Again!!
Fonseca Zoomathon from Portugal
Sam Roberts – Music and Wine
Tightrope
Lock and Worth/Nichol
Taylor Fladgate – Zoom from Portugal
A return to Hillside
Doin' The Douce in North Vancouver.  Douce Diner
Bartier Brothers