Sandra Oldfield with 3 Women of Wine/Evan Saunders presents two new Blasted Church Reds.
THE SHOW
Sandra Oldfield is a welcome force. 
Sandra is the co-founder of Elysian Projects. (with her husband and pal Kenn)
I love exchanging info and ideas with her but mostly I ask questions and get OUT of the way.
Several months ago Sandra suggested we spotlight BC's Women of Wine.
This weeks she returns with stories and features on
Women leading the growing  Wine Club movement and her three favourite Wine Clubs (and why they work for her)
Terry Meyer Stone – Mayhem Wines, Meyer Family Wines & The Garagiste Movement.
Severine Pinte – Winemaker at Le Vieux Pin
Leslie D'Andrea – Co-founder/Wine Community Leader at Noble Ridge
At the very end of this two part feature we touch on the  recent loss of her Father and the post that followed.

(Her Post can be found at)
#BCWineChat
Evan Saunders – Winemaker at Blasted Church
Speaking of women as leaders in the BC Wine Industry – how about Evelyn Campbell at Blasted Church?
But as Evelyn writes on their website:
I've had good fortune of finding highly talented, visionary and highly motivated individuals. I grant them full trust, and support them with the resources required to perform their very best for our winery endeavour. A philosophy that has helped Blasted Church thrive.
 We welcome  one of those high motivated individuals Evan Saunders- Winemaker.
 Trained in micro-biology  at U Vic on Vancouver island, then straight to Ontario and the  well known winemaking courses at Brock.
On site training followed at Osoyoos Larose in Oliver and the ground-breaking Pinot at  Kosta Browne In California.
Even worked his way up from student to cellar rat to assistant and is now a fully developed   human being.
He brings with him two of his latest reds. (I'M RECOMMENDING BOTH. What a great way to celebrate the end of Winter)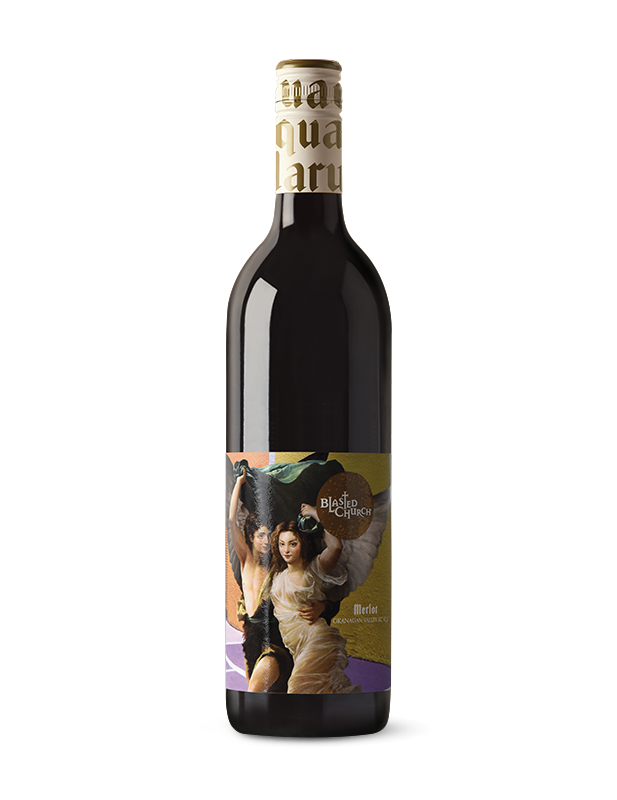 2017 – Merlot  (89% Merlot 11% Malbec)
Plums. Dark ripe berries. Dark Chocolate.  Serious texture in the mouth and a long finish. Outstanding tannins.
Think steaks, tomato based pasta, burgers…ribbbbbs.
$27.00  (874 cases)
2017 Syrah (94% Syrah. 3% Viognier 3% Roussanne)
The Viognier and Roussanne were co-fermented with the Syrah. Bringing the nose alive!
Left on skins for up to 3 weeks. Oak was  also a mix – French, American and Hungarian.
14 months in barrel then racked to tanks, blended and back in barrel for another 4 months.
So!  Was it worth it?   Oh Hell yes.
Black berries of all shapes and sizes on the nose with a bacon chaser.
Same in the mouth. Wonderful texture and tannins. Loooong finish.
This is a wine to open and celebrate,  then hide the other bottles for at least a couple of years.
$29.50  (2262 cases)
Evan also teases us with what's coming later in the Spring
2018  Killer Cab Franc
2020 Rose – (Blaufränkisch)
Nebbiolo
Others..
FYI
Office Hours: 9am – 5pm Monday – Friday
Wine Shop Hours: 10am – 5pm Monday – Friday
NOTE! We are now closed for tastings and open for sales only weekdays 10am – 5pm.
If you are making a pilgrimage from afar, please call us first as Winter hours may vary.
Before your visit, please review our Safety Plan for more information.
STORIES WE'RE WORKING ON;
Luke Whittall – Valleys of Wine
Canadian Whisky Awards
Wineries  and restaurants opening for Spring.
Spring Releases.