Christa-Lee McWatters (Time) – Christine Coletta (Narrative) – Jay Drysdale (Bella) 
THE SHOW
Three BC wine leaders in the Okanagan and releases you're going to want to find,  try and buy.
Christa-Lee McWatters – GM of  5 Vines Cellars. (TIME Winery/Kitchen. Evolve. McWatters Collection)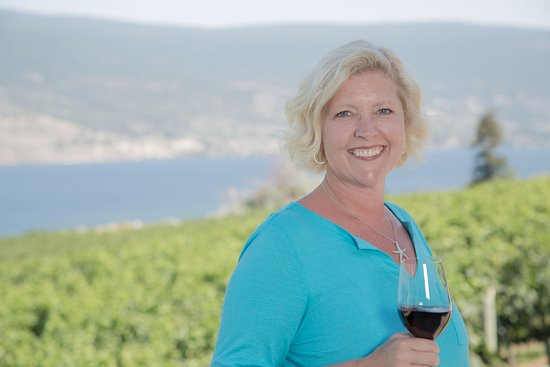 Christa-Lee McWatters
TIME-CabFranc2018-TechSheet   TIME-CabSauv2018-TechSheet
Being the daughter of Harry McWatters, British Columbia wine pioneer, Christa-Lee has had a rich understanding and love for BC wine since birth. She was involved in planting vineyards with her father and sister Darrien on the Black Sage Bench in the early 1990s.

Since 2000, Christa-Lee held key roles in sales, marketing, and hospitality for several successful Okanagan wineries, until stepping in as director of marketing and sales for her family's enterprise ENCORE Vineyards in 2014.
After her father's passing in 2019, Christa-lee assumed the position as CEO until the parent company was purchased by Five Vines Cellars. Christa-Lee continues to manage the three wine labels and downtown winery in Penticton but still finds time to give back to her industry through the British Columbia Wine Institute, Summerland's Bottleneck Drive Winery Association, Canadian Vintner's Association, the Okanagan Wine Festivals Society, BC Hospitality Foundation and Les Dames d'Escoffier, BC Chapter.
Getting caught up with CL includes 2021 releases from TIME Winery.
The Whites.
2018  Brut  Method Cuvee Clos  (34.99)
It engages with notes of toast and lime and a wonderful tiny bubble texture in the mouth invites you to let it linger around your tongue.  Love this.
2018 Meritage White  (25.00) – An perfect equal split between Sauvignon Blanc and Semillon. I  found melon and mandarin on the nose but the texture had such a lovely tropical fruit entry that lead to a nice texture and finish.
A true barrel-aged  Winter White that can only get better with cellaring for a couple of years.
The Reds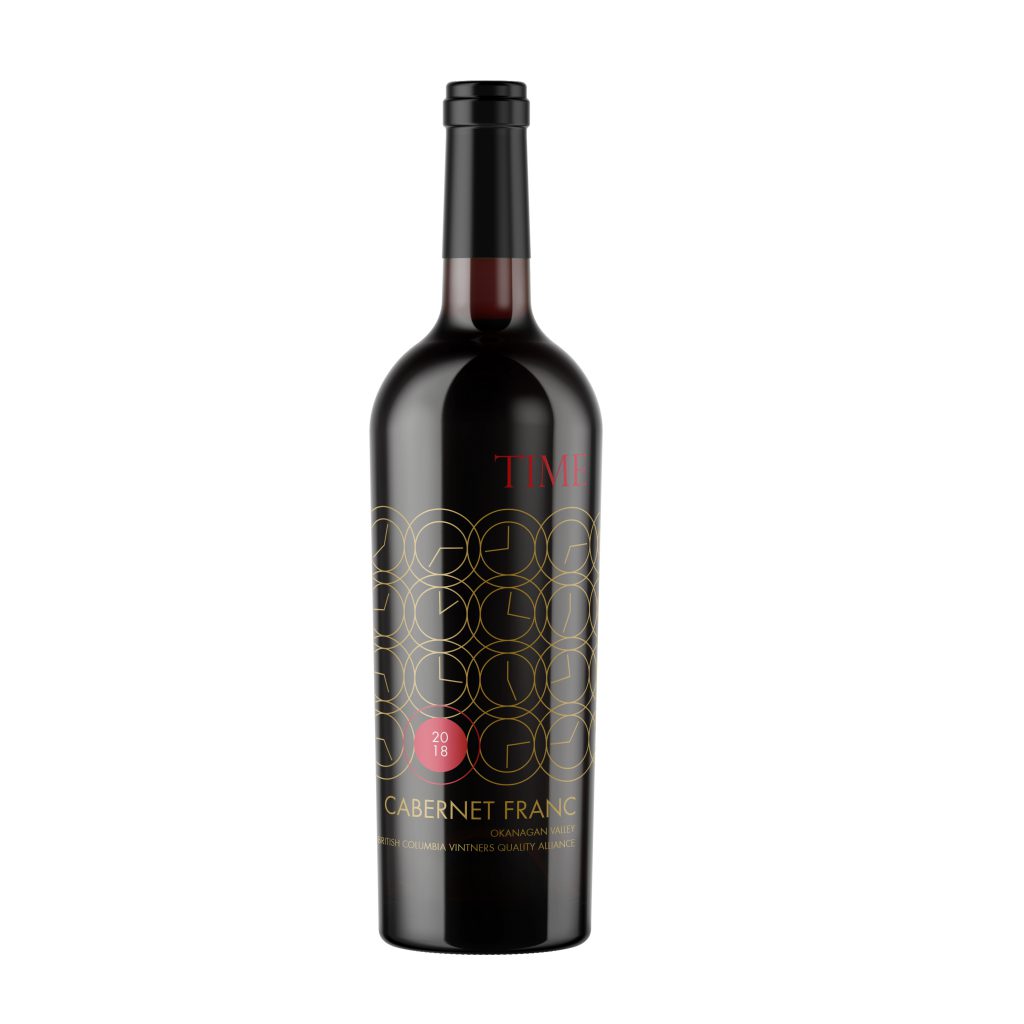 2017  Fourth Dimension (35.00)  When you blend well-made Merlot, Syrah, Cabernet Sauvignon, and Cabernet Franc many things can happen. They can end up fighting each other for dominance or with the careful blending exhibited in this blend the varietals reward with Cherry and Raspberry on the nose and cracked black pepper and spice. Long slow finish.  Again. Let it Linger.
"Time is the Fourth Dimension"   Al Einstein
2018 Syrah (39.99) Greeted by bold ripe blackberry and hints of mint on the nose.  Rich flavors of fresh black currant and ripe plum cracked black pepper and a taste of cinnamon on the way out. This could be your next favorite red. Cellaring for a couple of years will reward big time.
2018 Cabernet Sauvignon  (39.99) Everything you want and expect in a classic Cab. Cassis, blackberry, vanilla, pepper!  Boom. This well-structured big red wine compliments beautifully with BBQ  and engaging pasta.  I'd advise to get it while you can.  If you find this one – buy it.
2018 Cabernet Franc (34.99)  So good it just takes four words – Find-Buy-Taste – Repeat.  If you need more words,  how about this –  aromas of raspberries, ripe cherry, and pepper on the nose,  taste includes, plum, black fruit, with soft tannins and finish. Think pairing food with the same bang. Love this Cab Franc. I knew I would because the guy who planted it – Harry McWatters – was crazy for good Cab Franc. Just like me.
 https://www.fivevinescellars.com/Wines/TIME-Winery

---
Christine Coletta Co-Founder of Okanagan Crush Pad  and Narrative Wine
Everyone in B.C.'s food & wine industry knows Christine Coletta.
Innovator, community champion, visionary, land steward— She is an ongoing force.
Christine, or CC as she is known by many, has earned awards and accolades throughout her illustrious career. She was named  One of Wine's Most Inspiring People for 2020 by Wine Industry Advisor.
Christine is one of the founding members of the BC Wine Institute and the BC VQA program, and she has helped to mentor a number of professionals in the food and wine industries over the last 30 years.

Through her crush work at Okanagan Crush Pad, she has also been involved in the start of a number of new wineries in BC.
Her guidance, support, and mentorship have landed her the nickname, "Godmother of BC Wine."
Okanagan Crush Pad is the home of
Haywire Wines
Free Form
Bizou and Yukon
And  
Narrative
Today CC brings the 2021 releases from Narrative.
2019 Viognier/Syrah except its 80% Viognier and 20% Syrah
(spice, pepper, raspberries, and strawberries. Lots of rich  texture)
Viognier I was impressed by this release a while back and had to ask CC about it.
Slow fermented in concrete.  Yummy!
2018 Syrah Viognier.  It's quite a process to get this wine just right.  Syrah co-fermented with Viognier in clay amphora. On skins for 90 days. Some of the Syrah is in concrete which brings out the spice and texture. It's crazy good.
2016 Syrah (organic)  Grown in the South Okanagan  Spends lots of time in concrete. It's soft in the mouth with notes of white pepper.
There's a surprising lift in the mouth mid-palette. Not the usual dark chocolate.
THIS is a Syrah you want to find and it's one of Narrative's Winter Reds. Best of all it's been in bottle for 2 extra years.
Check out the Okanagan Crush Pad website for information on Virtual Tastings, Special 6 packs, and an opportunity to join a panel of tasters.
---
Jay Drysdale –  Bella Wines (Naramata Bench)
"I moved to the Okanagan in 2004 and quickly fell in love with everything related to the BC wine industry.  I see a world-class wine region in BC and understand we are still in our infancy, comparatively speaking.  This is our "wild west" era and we should enjoy this time of exploration, trial, and error."
"In the ten short years I have been watching, and involved with, the B.C. wine industry, quality has increased and our voice is getting louder and stronger.  I'm honored to be a part of this growing and evolving community."  Jay Drysdale

Jay Drysdale is a geekmeister.
He will talk about Gamay and bubble for hours and when you think of Jay and his love Wendy Rose you have to think of Bubble because that's what they do. As many releases as you can taste in a day. As many clones as you need to know..
Bella makes and releases
The Vineyard Series  – specific vineyards. Many in small batches
Pet Nat
Trad Nat
Bella Reserve
In order to give Jay room to expand his storytelling, we've given him two segments and we go over multiple wines each with their own story, terroir, season, and results.
Trust me on this – they are one of the most interesting wineries and couples in BC wine. Every bottle, every release has a surprise in it. If it's not the nose it's the taste or the color in the bottle. If you happen to ask Jay about say,  one of his Gamay Rose,  sit down and get comfortable because your Jay Jam is about to begin.
Fabulous wines and totally unique to BC.  Start with the 2019 Mariani Vineyards Clone 509 and stash a bottle of Pet Nat.

STORIES WE ARE WORKING ON:
Summerhill
Clos du Soleil Whites
Church and State
Tightrope
Hester Creek
.