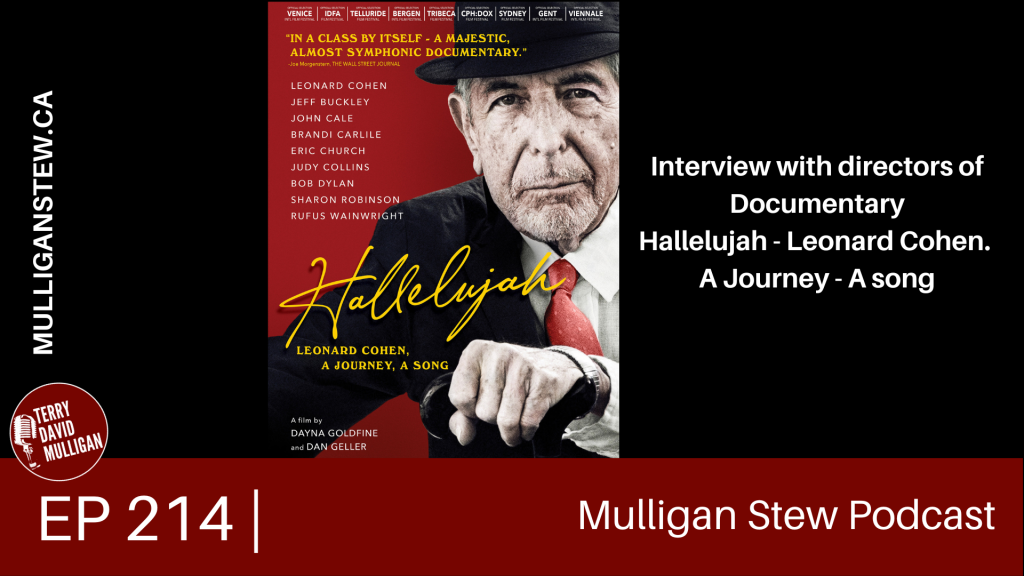 It's not just a story of the life of Leonard Cohen.  It follows the life of his song Hallelujah.
Leonard wrote 130-150 verses for the song. Took him years and years.
Then when he released it on the album  Various Positions, his label in the USA,  Columbia Records, refused to release it.  It never got played and was almost forgotten…until John Cale recorded it for the tribute album I'm Your Fan and it began a life of its own. The songs passed from Dylan to Cale, to Jeff Buckley, Rufus Wainwright, kdlang to the Shrek Soundtrack. Now, it's legendary. However, with Fame comes The Lame. Various singers have crushed the life out of Hallelujah in TV Talent shows.Some crediting the song to Buckley without knowing that Cohen lived it and wrote it.
Hallelujah started as a spiritual journey and ended, with various Leonard rewrites,  to become a secular and sexy anthem.
Post Shrek, Hallelujah took Leonard Cohen to audiences all over the World. It's a heartfelt film that captures the brilliance of Leonard Cohen and the song.
The film was released Friday in the USA and in Toronto/Montreal  and I've heard it opens across Canada very shortly.
This is smashing filmmaking and epic storytelling.
The directors are Dan Geller and Dayna Goldfine and they were my guests on Saturday's Stew
https://www.sonyclassics.com/film/hallelujah/