hello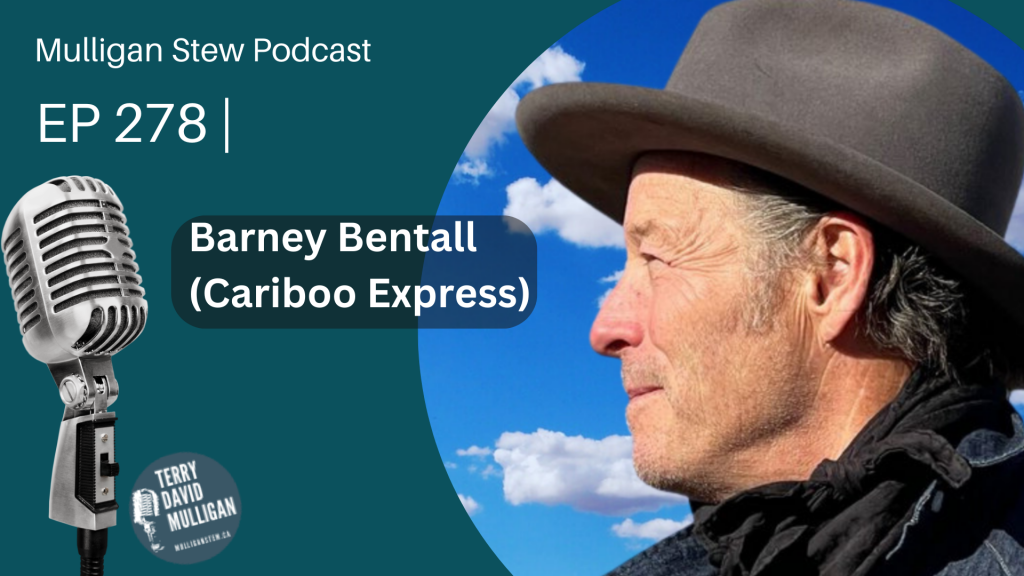 This weeks terrydavidmulligan YouTube is a tour with music from the heart.
Every year, just about this time, Barney Bentall gathers up friends and hits the road with a travelling barn burner. Everyone on stage is the leader of their career or a band. There are at least 16 artists in this years Express. AND best of all, they're raising funds for the charities listed below.
Barney Bentall writes his own introduction. This was his newsletter a week ago.
Hi ya all. Gearing up for the Cariboo Express shows. Depending on how we mark the birth of this whole thing, it's the 18th or 19th year! I think for all of us that play in this big ol' badass band, it is a musical highlight of our year.
With the help and hard work of some worthy charities, we've managed to raise over 5 million dollars over the years.
Here are the dates:
Come on out! There are always great guests that show up along with all the regulars. For those of you in the Toronto area, spread the word. This will be our second year and we want to keep coming back and develop what we have going out west. We are supporting Classroom Champions at the Glenn Gould show. Cheers and see you soon! Barney
𝙈𝙀𝙀𝙏 𝙏𝙃𝙀 𝘽𝘼𝙉𝘿 ☟
𝘽𝙖𝙧𝙣𝙚𝙮 𝘽𝙚𝙣𝙩𝙖𝙡𝙡 ⭒ Barney Bentall
𝙈𝙖𝙩𝙩 𝙈𝙖𝙨𝙩𝙚𝙧𝙨 ⭒ Matt Masters
𝘿𝙪𝙨𝙩𝙞𝙣 𝘽𝙚𝙣𝙩𝙖𝙡𝙡  ⭒ Dustin Bentall
𝙍𝙞𝙙𝙡𝙚𝙮 𝘽𝙚𝙣𝙩 ⭒ Ridley Bent
𝙒𝙚𝙣𝙙𝙮 𝘽𝙞𝙧𝙙
𝙂𝙚𝙤𝙛𝙛𝙧𝙚𝙮 𝙆𝙚𝙡𝙡𝙮
𝙎𝙩𝙚𝙥𝙝𝙖𝙣𝙞𝙚 𝘾𝙖𝙙𝙢𝙖𝙣 ⭒ Stephanie Cadman
𝙎𝙘𝙤𝙩𝙩 𝙎𝙢𝙞𝙩𝙝 ⭒ Scott Smith
𝙂𝙚𝙤𝙛𝙛 𝙃𝙞𝙘𝙠𝙨
𝙍𝙤𝙗 𝘽𝙚𝙘𝙠𝙚𝙧
𝙎𝙞𝙢𝙤𝙣 𝙆𝙚𝙣𝙙𝙖𝙡𝙡
𝙂𝙚𝙤𝙛𝙛 𝙃𝙞𝙡𝙝𝙤𝙧𝙨𝙩
𝙏𝙧𝙞𝙭𝙞𝙚 ⭒ Trixie
𝙒𝙞𝙡𝙙 𝙃𝙤𝙣𝙚𝙮 ⭒ Wild Honey Band
𝗟𝗲𝗮𝗿𝗻 𝗺𝗼𝗿𝗲 𝗮𝗯𝗼𝘂𝘁 𝘁𝗵𝗲 𝗰𝗵𝗮𝗿𝗶𝘁𝗶𝗲𝘀 𝘄𝗲 𝘄𝗼𝗿𝗸 𝘄𝗶𝘁𝗵 𝗵𝗲𝗿𝗲 ☟
Saanich Peninsula Lions Food Bank
ISLAND COMMUNITY SERVICES FOOD BANK: Nanoose Community Services
DELTA FIRE FIGHTERS HEALTHY SNA
Friday Oct 27  Bella Concert Hall – Calgary (special guest William Prince)
Saturday Oct 28 Festival Place Sherwood Park Edmonton
Thursday Nov 2 Glenn Gould Studio  Toronto  (Special guest Terra Lightfoot and Tom Wilson)
Rest of the dates can be found at