hello
Headline – Okanagan Crush Pad becomes Haywire Wines. Guest is Christine Coletta.
THE SHOW 
Tasting Room Radio began in 2007 in a studio in a barn on the Naramata Bench.
I announced to myself and the audience that I had a lot to learn but each interview and tasting would take me closer to the promised land.
One of the very first interview friends I made was Christine Coletta who had just launched Okanagan Crush Pad with her husband Steve Lornie.
I knew of Chris because of her leadership at Coletta and Associates.   Her specialty was to market new and established wines to an ever-growing base of wine fans. The wineries needed a voice to speak for them. Christine was that voice.
In our first interviews, Christine talked about Okanagan Crush Pad and the need for small Indy wineries to have a facility to access when harvest came. It was a huge success and much-needed in the Okanagan.
At the same time, Chris and Steve (and their wine friends) started to groom, plant, and plan for their own wines under the Haywire label starting with the Switchback Vineyard in Summerland. Certified Organic in 2015.
The first 6 concrete tanks arrived in 2011 well ahead of the concrete "movement" in the valley.
Pinot Noir, Gamay, Pinot Gris, and Chardonnay love the Okanagan soil and the concrete allows them to be the lively & vibrant style of wine the Haywire team aims to make. Key to the popularity of Haywire wines is the winemaker Matt Dumayne.
So, now we come to 2023 and lots of changes at Okanagan Crush Pad.
First, the name is now changed to Haywire. The look of the Haywire release has changed as well… New labels and colors.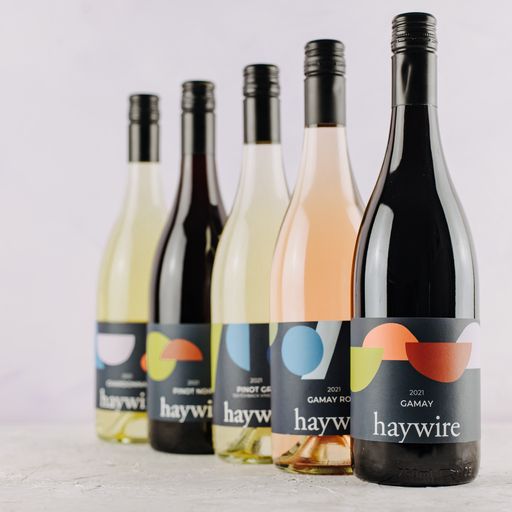 A modern tasting room has been constructed right next door to the crush pad and the cellar.
The Haywire winemaking facility is also the home for other unique wine labels that found a place at Okanagan Crush Pad.
Free Form, Narrative, Bizou & Yukon, and the new Garnet Valley Ranch. (more on Garnet Valley  later)
While it was great talking to Chris about the name changes and new facility at Haywire it also gave us an opportunity to do what we most love doing…tasting and talking about new Haywire releases.  Here's the line-up!!
2021 Haywire Pink Bub
2021 Haywire Switchback Pinot Gris
2021 Haywire Chardonnay 2021 Haywire Gamay Rosé
2021 Haywire Gamay          
2021 Haywire Pinot Noir
Check out the new Haywire website – for all the experiences available.
STORIES WE'RE WORKING ON:
Sons of Vancouver/Davin De Kergommeaux
Van Wine Festival
Lt. Governors Awards
New releases from
Hillside
Mt Boucherie
Moon Curser
Unsworth