hello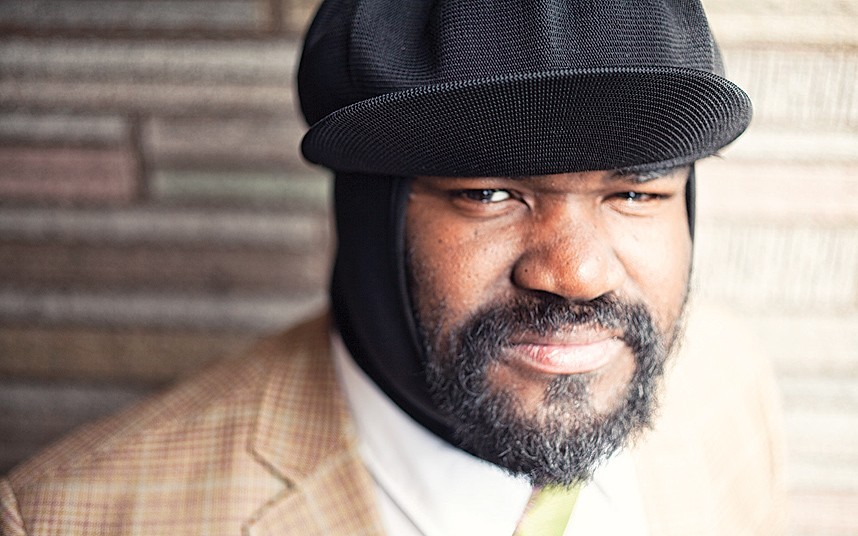 Gregory Porter is no ordinary jazz singer. He has become, arguably, the most unlikely star in popular music. He has gone from playing jazz in Harlem until 4am for $30 a night to playing for royalty in the best concert halls in the world.
Gregory's prime mentor was his late mother Ruth, a preacher who raised him along with his seven siblings alone in Bakersfield, California. His mother's presence still informs his writing, and he can name a handful of songs that can be directly attributed to her. Gregory grew up hooked on Nat King Cole, but was more interested in sports until an injury sidelined his athletic aspirations and propelled him toward a singing career.

Gregory was 30 when he started his career, and it took 20 years to become an "overnight success". He found worldwide stardom with the Grammy Award-winning, platinum selling 2013 jazz/gospel/R&B album Liquid Spirit, and followed it up earlier this year with the touchingly confessional Take Me to the Alley. WhenTake Me to The Alley was released, it broke into the top five of the charts, the first jazz record to do so since Jamie Cullum's Catching Tales in 2005. It's fair to say that Gregory is his generation's most successful jazz and soul singer-songwriter.
Terry David Mulligan will chat with Gregory about his longtime bandmates, headlining the Edmonton and Vancouver Jazz Festivals, and his plan to tour the world in 2016.
PLAYLIST:
| | | |
| --- | --- | --- |
| welcome to Mulligan Stew | Playlist www.mulliganstew.ca | |
| Darlene | Led Zeppelin | Coda |
| Last Night | The Travelling Wilburys | Travelling Wilburys Collection |
| No woman. No cry | Bob Marley and the Wailers | Easy Skankin' Boston 78 |
| www.canadahouse.com | coming UP – Interview with Gregory Porter | |
| No more cheap wine | Colin Linden | 40 years of Stony Plain |
| I'm all right | Madeleine Peyroux | Half the perfect world |
| This is Mulligan Stew – Year 20 | with Terry David Mulligan | |
| Broken Bones | Mark Knopfler | Tracker |
| Cold Rain | The High Bar Gang | Someday the Heart will trouble the Mind |
| Gregory Porter Interview | MulliganStew.ca | |
| The In Crowd | Gregory Porter | Liquid Spirit |
| Gregory Porter Interview | | |
| Take me to the Alley | Gregory Porter | Take me to the Alley |
| Liquid Sprits – Claptone Re-Mix | Gregory Porter | Liquid Spirit |
| Mulligan Stew @ckuaradio | Playlist www.mulliganstew.ca | |
| Gregory Porter Interview | Part Two | |
| Don't lose your steam | Gregory Porter | Take me to the Alley |
| Blinded by the Light (live) | Bruce Springsteen Session band | Live in Dublin |
| SOB | Nathaniel Rateleff and the Night Sweats | Edmonton Folk festival Sampler |
| www.coyotesbanff.com | Mulligan Stew Hour Two | |
| The Denial Twist | White Stripes | Get behind me Satan |
| Driven to tears (live) | Sting | Hope for Haiti Now |
| Boogie at Russian Hill | John Lee Hooker | Boom Boom |
| Mulligan Stew @ckuaradio | playlist www.mulliganstew.ca | |
| Here comes my girl (live) | Tom Petty and the heartbreakers | The Live Anthology |
| The Ironic Twist | Jimmy Vaughn | Out There |
| So Young | The Rolling Stones | Some Girls Bonus tracks |
| Ruby Tuesday | Shawn Colvin and Steve Earle | Colvin and Earle |
| Next week on The Stew | The JUNO COUCH returns for Canada Day weekend | |
| Love Shines | Ron Sexsmith | Long Player Late Bloomer |
| Nobody | The Doobie Brothers | World Gone Crazy |
| Thank you for listening | Have a GREAT CANADA DAY | next week The Juno Couch Returns |
| | | |