hello

Food, Fishing and wine @ 7 Half Diamond Ranch  with Mark Filatow, Rhys Pender and John Weber. The Wine Diva has 17 outstanding wines from South Africa for you. And Bubbles returns to the show.. Michael Smith gives us the dirty dirt on SwearNet.   
Podcast: Play in new window | Download
THE SHOW
For the four years now my fly fishing friends and I have gathered at some exotic location and off loaded bags of food, boxes of wine and  enough fly fishing gear for 8 people. Yes, it's just an excuse to get away and fish but it seems to work for all. Guests this year are.. BC Gold Medal winner Chef Mark Filatow – Waterfront Bistro Kelowna. Master of Wine Rhys Pender (also winemaker at Little Farm, Cawston) And John Weber – co-owner and winemaker at Orofino Wines. [divider] The FLY FISHING SPECIAL /  7 Half Diamond Ranch   For the fourth year in a row..my fly fishing friends and I head for the lakes.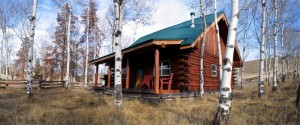 We're heading for 7 Half Diamond Ranch just North of Princeton in BC's South Central Interior on Highway 5A. Seven Half Diamond Ranch provides the opportunity to enjoy the best and most exclusive fly fishing in British Columbia, located only 300 meters from your cabin. Their lake is rich with big, hard-hitting, Kamloops Rainbow Trout weighing up to 15 pounds. Our management program welcomes experienced fly fishers to test their skills in a unique and private lake. With an abundance of shallows, ridges, and reeds you will notice a large variety of bugs and hatches.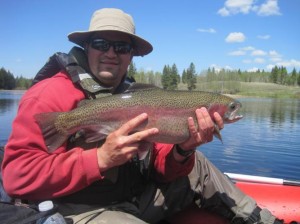 Barbless flies, catch and release nets, and proper fish handling skills are required to ensure that the trout remain healthy and happy.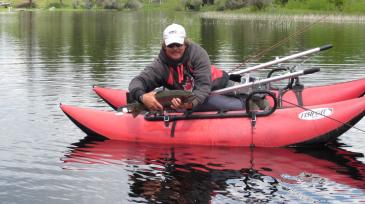 Our host is Justin O'Connor who grew up on the Ranch. Justin O'Connor and his spouse and partner Christy Hughes also publish the award-winning Okanagan HOME Magazine. http://www.guestranchbc.com/    [divider] Rhys Pender MW is a wine educator, freelance wine writer, wine judge and consultant to the industry. Working in the wine trade since age 14, Rhys' career has included experience in the vineyard, cellar, wine retail, education and hospitality .In 2010 Rhys became Canada's youngest Master of Wine (MW). In 2009 Rhys and his wife Alishan planted a small 4 acre vineyard at their Cawston home. The resulting wines are found under the Little Farm Label. If you see one…grab it. Small production. Great wines.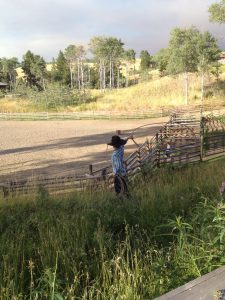 Rhys looks after the vineyard. Having studied the world of wine he brings a global perspective to the project and an understanding of the world's wine regions and wine styles. He continues to run his Wine Plus+ business including a wine school, consultancy, writing for a number of publications and judging wine competitions around the world.

He knows almost nothing about fly fishing. Interestingly, the fish could care less.
http://littlefarmwinery.ca/
[divider]
John Weber IS Orofino
..along with his wife Virginia, of course.  
JOHN AND VIRGINIA WEBER
 both grew up in Southern Saskatchewan far away from anything to do with grapes and the wine industry. Virginia studied nursing and became a registered nurse and John received a Bachelor of Arts in English and then went on to finish an Education degree from the University of Saskatchewan.
After serious travelling  experiences, the two of them settled down and took teaching and nursing positions around Swift Current , Saskatchewan. Life settled and things were good until they met the
Similkameen Valley in 2001
. The desire to try something new, their love of wine and the beauty of the Similkameen convinced them to purchase a vineyard and move from Saskatchewan to the Similkameen Valley to try something new. Virginia and John have two sons
Jack and Nate.
They share their house with an affable retriever named
Cooper
and an enigmatic cat named
Rosie.
Orofino is a straw bale..solar powered winery. The wines are sensational.
http://www.orofinovineyards.com/
 [divider]
Mark Filatow / Waterfront Bistro
With over twenty years of experience, Chef Mark Filatow has had the honour of working at some of BC's top restaurants including the Wickaninnish Inn in Tofino, Bishops and Diva at the Met in Vancouver and Fresco Restaurant (now known as RauDZ) in Kelowna before taking the reins at
Waterfront Wines
. Not only is Mark an exceptionally talented chef, he is also certified by the International Sommelier Guild which allows him to retain an extraordinary wine list and create perfectly paired dishes.
Chef has seen many accolades during his time at Waterfront including numerous Gold Medals at the Vancouver Magazine Restaurant Awards, the coveted Southbrook Canadian Wine Award at Canada's Food day in 2010 and most recently, the
Gold Medal at Vancouver's Gold Medal Plates in 2012.
This fly fishing will be Chefs first ever. He's a spin cast kind of guy.
[divider] THE WINE DIVA/ South Africa

The wines of
South African
are  once again featured all over BC during the month of august. If you haven't yet discovered their amazing wines  and wine prices..let
Daenna Van Mulligen – The Wine Diva
lead you through 17 of the best to be found this month. 1   CitrusdalWines "Six Hats" Cab  South Cape $13.99        . 2. Glen Carlou 'Grand Classique', Paarl South Africa $21.00 3. Graham Beck 'The Game Reserve' Cabernet Sauvignon, Robertson South Africa $17.99 4. KWV Roodeberg Western Cape South Africa $13.99 5. Flagstone 'Longitude' Shiraz~Cabernet~Malbec, South Africa $13.99 6. Painted Wolf Wines 'The Den' Cabernet Sauvignon, South Africa $14.99 7. Moreson 'Miss Molly' Bubbly, Franschhoek South Africa $19.99 8. Spier 'Signature' Chenin Blanc, Stellenbosch South Africa $13.90 9. Obikwa Merlot, South Africa $10.00 10. Nederburg 'Winemaster's Reserve' Cabernet Sauvignon, Western Cape South Africa $12.99 11. The Beach House Sauvignon Blanc, Western Cape South Africa $11.99 12. Fleur du Cap 'Bergkelder Selection' Chardonnay, South Africa N/A 13. Inception 'Deep Layered Red', Western Cape South Afica $16.00 14. Douglas Green Chardonnay, Western Cape South Africa $12.96 15. Spier 'Creative Block 5′, Coastal Region South Africa $28.92 16. Arabella Chenin Blanc, Western Cape South Africa $13.00 17. Spier '21 Gables' Chenin Blanc, Tygerberg South Africa $28.85 [divider]
Mike Smith – Bubbles talks SwearNet..
Fed up with being censored in their post-Trailer Park Boys lives, the out of work stars/world-renowned 'swearists', Mike Smith, Robb Wells and John Paul Tremblay decide to start their own uncensored network on the internet. Thus it's SwearNet. Mike knows his wines and his food..having been the owner of 3..maybe  4 restaurants in Halifax, depending on who you talk to. It's fair to say that the world knows Canada for three things. Hockey. Ice wine and …wait for it..
The Trailer Park Boys.
Deal with it.  
Have a great long weekend.  
Podcast: Play in new window | Download
NEXT WEEK
One of Canada's best chefs David Hawksworth..brings his 8th annual Culinary Adventure to The West Coast Fishing Club. Haida Gwaii. Guests include Anthony Walsh – Oliver and Bonacini  Toronto Dino Renaerts – Bon Vivant Group Shaun Snelling – The Clubhouse Mark Davidson – Wines of Australia Jacob Richler – Author and Food Specialist