hello


Rick Hansen, The Dirt Farmers, The Australians are coming and – and – The Wine Diva celebrates 11 years with 11 outstanding  wines.

Podcast: Play in new window | Download
[divider]
 THE SHOW
 Rick Hansen
In 1973, at the age of 15, Rick Hansen's life changed forever. He was involved in an accident that paralyzed him from the waist down. Coming to terms with his new life, he found inspiration from teachers, coaches and family, and set new goals from new dreams. Rick went on to become one of Canada's most decorated Paralympic athletes.

In March 1985, Rick set off from Vancouver to wheel 
40,000 kilometres through 34 countries
 on the 
Man In Motion World Tour
 to prove the potential of people with disabilities. His 26-month journey inspired an entire nation to believe anything is possible and moved thousands to make a difference.
After the Tour, he established the 
Rick Hansen Foundation
 to find a cure for spinal cord injuries and create more accessible communities.
Since 1988, the Foundation has leveraged the $26 million raised during the Tour into $280 million in investments towards spinal cord research, accessibility projects and quality of life initiatives.
I had the honour of being in the right place at the right time and minutely assisted Rick in living his dream.
We've always stayed in touch and when Rick asked if I'd like to go Sturgeon fishing on the Frazer River in BC I said YES!!
Rick is working tirelessly to preserve what was once a dying breed of fish.
Rick Hansen founded the FRSCS in 1997 in response to the declining population of the prehistoric white sturgeon – a species that had survived virtually unchanged for 65 million years.
The Society has built an award-winning monitoring and assessment program.
Check out the photos..The first sturgeon we caught was 6'5" and the second was 8', over 300 lbs and perhaps 90 years old.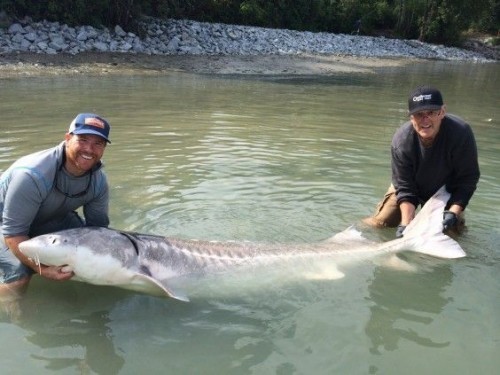 All caught,  tagged and released, of course.
My thanks to our guide for the day 
Yves Bisson from BC Sportfishing Group
https://www.rickhansen.com
[divider]
 The Dirt Farmers
Wine expert 
Kurtis Kolt
 organized the annual 
Dirt Farmers
 pour in Vancouver.
It's his way of saluting the people who work the field, harvest the crops and craft very high quality wines.
Every one of these gentlemen is the kind of winemaker you want to get to know..
Our guests are:
Rhys Pender
 – Little Farm   Similkameen Valley  
www.littlefarmwinery.ca
John Weber
 – Orofino  Similkameen Valley  
www.orofinovineyards.com
Ty Harlton
 – TH Wines  Summerland 
http://thwines.com/
Terry ThrelFall
– Sommelier of the Year and winemaker. 
www.terrythrelfall.com
Wine /Australia – Vancouver International Wine Festival
 Savour Australia.
 Sounds good to me.
At the 
Vancouver International Wine Festival 2015
, Australia will offer a dynamic look at the history, evolution and revolution of its wines through 55 award winning wineries in the main tasting room.
I can honestly tell you that after tasting what Australia is prepared to pour in February  (Feb 20-March 1
st
) this will be  a memorable Wine Fest.
Our guests include 
Australia's Global Education Director Mark Davidson
 and 
The Executive Director of the Vancouver International Wine festival Harry Hertscheg.
Just a heads up..Both Wine Festival Specials this year will be hosted by Daenna van Mulligen The Wine Diva and brought to you by

Road 13 wines.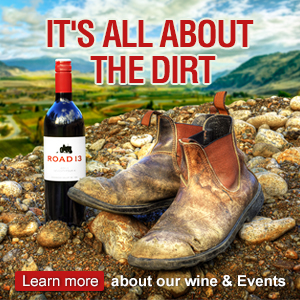 www.vanwinefest.ca
 [divider]
Speaking of
Daenna van Mulligen
..she is  now celebrating her
11th
birthday AS
The Wine Diva.
To mark the occasion she has selected 11 outstanding wines, each representing a year. There's just one problem..she couldn't stop herself and we all ended up with a slightly longer list.
Even though, they've all been tasted, reviewed and selected for this list by Daenna's wine diva website, we only had the original 11 when we recorded. We'll the rest up to you.
Congratulations to Daenna and her Barry for creating a home for wine lovers everywhere.
www.winediva.ca
www.winescores.ca
Peter Lehman 'VSV' 1885 Shiraz, Barossa Valley Australia $68.00
Wakefield Riesling, Clare Valley Australia $21.00
Tyrrell's Wines 'Vat 1' Semillon, Hunter Valley Australia $55.00
Yangarra Estate Vineyard Roussanne, McLaren Vale Australia $30.00
Famille Perrin Tavel, Rhone Valley France $25.99
Coldstream Hills Pinot Noir, Yarra Valley, Victoria Australia $34.00
Frontaura 'Nexus One', Ribera Del Duero Spain $24.95
Painted Rock Syrah, Okanagan Valley BC $40.00
Blue Mountain Vineyard and Cellars Reserve Brut Okanagan Valley BC $40.00
Jean-Claude Boisset Bourgogne Pinot Noir 'Les Ursulines', France $24.99
Perrier~Jouet 'Belle Epoque' Brut Champagne, France $199.99
Barone di Valforte Montepulciano d'Abbruzzo, Italy $19.99
Gonzalez Byass 'Tio Pepe' Extra Dry Palomino Fino Sherry, Jerez Spain $21.99
Domaine Pattes Loup Chablis 1er Cru Butteaux, Chablis France $65.00
Argiolas 'Costamolino' Vermentino di Sardegna, Italy $19.99
Meyer Family Vineyards 'Micro Cuvee' Pinot Noir McLean Creek Vineyard, Okanagan Falls BC $65.00
Belle Glos Pinot Noir 'Las Alturas Vineyard', Santa Lucia Highlands, Monterey County, Calif. $43.95
Podcast: Play in new window | Download
[divider]
  STORIES WE'RE WORKING ON
Ezra Cipes –Summerhill Winery
Rob Feenie/Sebastian LeGoff – celebrate Rob's wine at Iron Chef – 10 years ago
Wine Diva in Italy